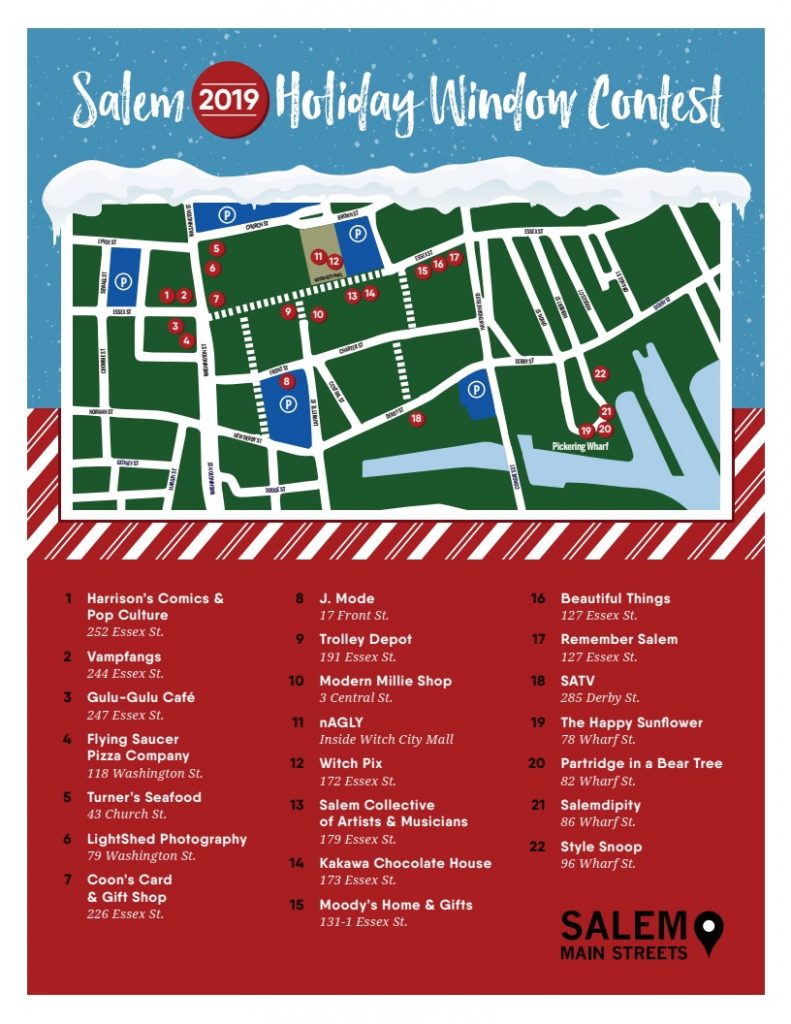 The holidays are here, and Salem is dressing up for the season with trees, wreaths, and ribbons. As part of the festive fun, downtown businesses decorate their windows especially for the holidays. Judges nominated by Salem Main Streets will make the rounds to vote on the best windows. Award categories typically highlight good retail design – use of store products or display of a business' services – or types of design, like most traditional.
Windows will begin to be decorated and ready for judging by Dec. 7th. Winners will be announced by Dec. 14th. This year's participating businesses currently include:

1 Harrison's Comics & Pop Culture, 252 Essex St.
2 Vampfangs, 244 Essex St.
3 Gulu-Gulu Café, 247 Essex St.
4 Flying Saucer Pizza Company, 118 Washington St.
5 Turner's Seafood, 43 Church St.
6 LightShed Photography, 79 Washington St.
7 Coon's Card & Gift Shop, 226 Essex St.
8 J. Mode, 17 Front St.
9 Trolley Depot, 191 Essex St.
10 Modern Millie Shop, 3 Central St.
11 nAGLY, inside Witch City Mall
12 Witch Pix, 172 Essex St.
13 Salem Collective of Artists & Musicians, 179 Essex St.
14 Kakawa Chocolate House, 173, Essex St.
15 Moody Home & Goods, 131-1 Essex St.
16 Beautiful Things, 127 Essex St.
17 Remember Salem,127 Essex St.
18 SATV, 285 Derby St.
19 The Happy Sunflower, 78 Wharf St.
20 Partridge in a Bear Tree, 82 Wharf St.
21 Salemdipity, 86 Wharf St.
22 Style Snoop, 96 Wharf St.