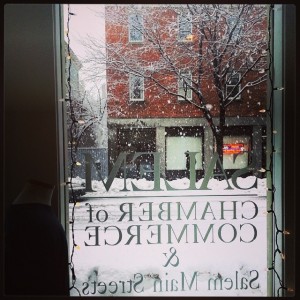 Salem Main Streets' (SMS) mission is the continued revitalization of downtown Salem as a vibrant, year-round, retail, dining and cultural destination through business retention, recruitment, and promotion of the downtown district.
SMS provides direct support to downtown businesses and produces numerous community events and initiatives throughout the year, including the Salem Farmers' Market, Salem Arts Festival, Salem's So Sweet, and the October Information booth. SMS operates thanks to the generosity and partnership of the City of Salem and Mayor Kimberly Driscoll, the Salem Chamber of Commerce, Destination Salem, and many other local business sponsors and community volunteers. Salem Main Streets was founded in 2001 by the City of Salem and a coalition of downtown businesses and area residents, and is modeled on the National Trust for Historic Preservation's National Main Street Program.
Meet the Director
Steering Committee Members
Sponsors
Volunteer Opportunities
For more information regarding Salem Main Streets, or to volunteer, please contact Kylie Sullivan, SMS Executive Director, at 978-744-0004 x15, or e-mail: kylie@salemmainstreets.org
Salem Main Streets
265 Essex Street
Salem, MA 01970
The Main Street Four-Point Approach™ is a comprehensive strategy that is tailored to meet local needs and opportunities. It encompasses work in four distinct areas — Design, Economic Restructuring, Promotion, and Organization — that are combined to address all of the commercial district's needs.
Organization– Building collaborative partnerships between a broad range of groups, organizations and constituents who need to be involved in the downtown's revitalization.
Promotion – Changing people's attitudes toward the commercial district and marketing the district to residents, investors, visitors and others.
Economic Restructuring – Studying and strengthening the downtown's economic base and working to gradually expand it by helping existing businesses become stronger.
Design – Improving the physical appearance of the commercial district and advocating for the improvement, historic preservation and re-use of existing buildings and architecture. Design improvements include buildings, streets, sidewalks, signs, parking, and all other aspects of the physical environment.
The Salem Chamber of Commerce and Salem Main Streets will work closely together to implement the recommendations put forward by the 2007 Salem Retail Market Study and Action Plan (by Karl F. Seidman Consulting Services). The goal is to revitalize downtown Salem as a vibrant year-round retail, dining and cultural destination.