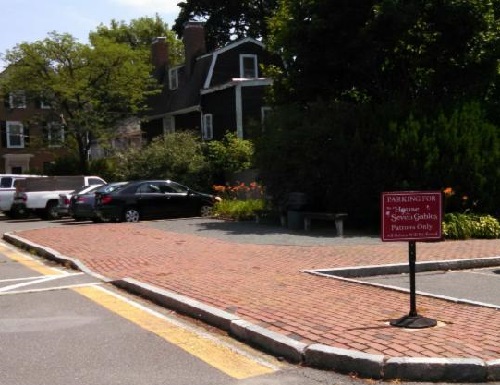 Overwhelmingly positive and international in scope have been the responses to a fund raising project initiated last June by the House of the Seven Gables. And there is still time for you to get in on the ground floor of this national historic site's endeavor— literally.
Karen Barter, Director of Development at The House of the Seven Gables explains, "The front entrance walkway of The Gables is in need of brick repair. We decided to do a fund raising project whereby bricks could be purchased and inscribed with the name of a family member or friend. It has been quite successful for other museums and historic sites."
In fact, she adds that there has been strong interest from foreign supporters of the Gables. Not surprisingly, there are also many writers and authors wishing to invest in the project and have their names associated with the house noted author Nathaniel Hawthorne wrote about.
Think of it. Inscribe a wedding date. The names of your children. A loved one who loved Salem. The names will be there for all to see, for years to come. In fact it's quite possible that your children could bring their children to Salem and take in the surprised looks when the young ones find the family names part of the living history of the House of Seven Gables.
Barter adds that businesses may also support the Gables project. Just no advertising, websites, logos, etc. Only words & numbers.
It's a chance for you or a relative, whether near or far, to be able to say "that's my Gables, I own a piece of it" when someone refers to The House of Seven Gables in Salem Ma.
If you're interested…
Brick, 4″ x 8″, Red clay with laser cut script in black, 1-2 lines (20 characters per line) $65 each brick
Brick, 8″ x 8″, Red clay with laser cut script in black, 1-3 lines (20 characters per line) $125 each brick
The House of the Seven Gables reserves the right to not accept the wording of a donor if it does not align with their mission and code of ethics.
For more information, contact the Development Department at 978-744-0991 ext 126 or email kbarter@7gables.org