We're bringing the monthly Business Spotlight back!  Every month, Salem Main Streets will highlight a business in downtown Salem that might be relatively unknown, off-the-beaten path, misunderstood, or just plain cool. This month, we took a trip with our partner Creative Salem to get a sneak peek at an older business with a new vision. Thank you to Creative Salem for the amazing photo-documentation – you can see their glossier version of this article here.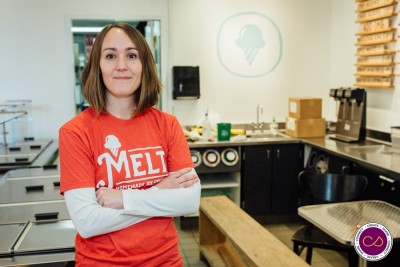 What: Melt Ice Cream
Where: 60 Washington Street, Salem, MA
Owner: Christiana Kroondyk
Many locals got understandably anxious this winter when they saw brown paper on the windows of The Salem Screamery, a favorite ice cream parlor, but when we got the scoop (sorry, couldn't help ourselves), the news ended up to be better than we could have anticipated.  After a year of operating the Salem Screamery, the current owner is finally transitioning the business over to reflect her own brand and vision. The results are simply delicious.
Salem resident Christiana Kroondyk isn't afraid to do things a little unconventionally, with flavors or with business. Kroondyk first started dreaming about her own ice cream line during a 2009 vacation, when she visited an ice cream parlor with deliciously unconventional flavors and thought, "I want to do that!" She started playing with her own combinations at home a few years later, and came up with the concept of Melt as an artisanal ice cream line. The original plan was to start as a vendor at farmers' markets and slowly develop the product over time – but when the chance came to buy the Salem Screamery last year, it was too good to pass up.
This definitely turned Kroondyk's timetable around a bit – instead of establishing the product until she was ready for a storefront, she suddenly had a storefront before she had established her own product!  She made the decision to keep operating as the Salem Screamery for the first year, continuing to source from Bliss Bros. Dairy while learning the ropes of running a storefront business and slowly introducing her own, unique homemade flavors.  If you noticed new options popping up last year like pumpkin, sweet potato fluff, or anise with candied fennel seeds (!), you have an idea of where this is going.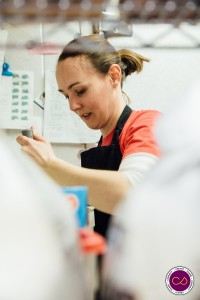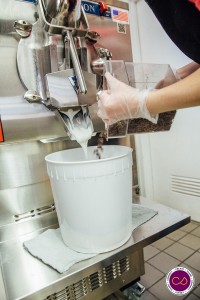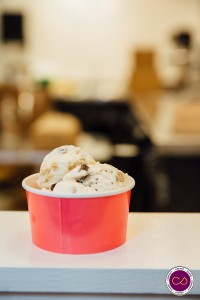 So what makes Melt different? Kroondyk's vision for Melt has always included a strong focus on community and locally-sourced ingredients. Current flavors feature a number of ingredients from local, regional businesses, including coffee beans from Atomic Coffee Roasters (Salem), sea-salt brownie bits from Jodi Bee Bakes (Salem), chocolate from Taza Chocolate (Somerville), tea from MEM Tea (Watertown), nuts from That Nutty Redhead (Rockport), and candies from Sweet Lydia's (Lowell).  The interior is open and inviting, including work by local artist Scott Froeschl (keep your eyes peeled for a mural coming soon). Last but not least, all ice cream is now made on-site in Melt's beautiful, brand-new ice cream mixer! Kroondyk has also started making additional ingredients in-house, including homemade waffle cones.
Melt Ice Cream opens its doors on Thursday, March 24th, and will be open SEVEN DAYS A WEEK: for now, 1pm – 8pm on Sunday – Thursday, 1pm – 9pm, and Friday – Saturday.  Stop in to treat yourself and support a great new local business!