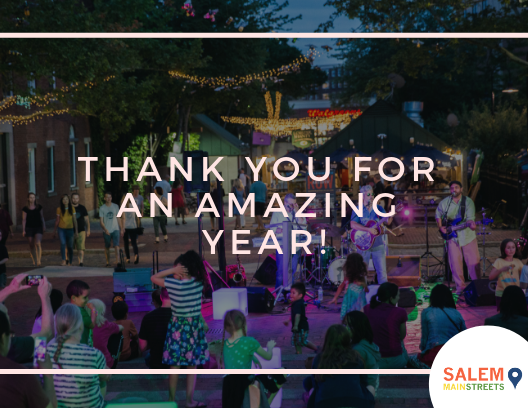 Downtown Salem is a special place –  home to top notch retail as well as an amazing restaurant scene, in a city full of rich history and local events for all ages. Salem Main Streets contributes a great deal to ensuring that downtown Salem remains a vibrant, year-round, retail, dining, and cultural destination. While Salem prides itself on having five seasons (winter, spring, summer, fall, and October), it takes a lot of thoughtful work to try to make sure that all twelve months of the year in downtown Salem are sustainable for our businesses, welcoming to our visitors, and mindful of our residents.  This is why we need your help.
Salem Main Streets continues to contribute a vast variety of services to the local community, but we feel like we could do so much more. Our nonprofit organization, and the community as a whole, would benefit greatly from us having the available funds to create an additional part-time staff position to complement our one full-time staff member, but that requires a jump in our organizational budget to be sustainable. It is also important to us that the majority of our events and services remain free to the downtown community.
We estimate that every $100 donated to Salem Main Streets translates to roughly two hours of work invested into our local community. It may not seem like a lot, but with the added hours, a lot can be accomplished.  Two hours is what it takes to set up the Salem Farmers' Market every week before it is visited by over 2,000 eager consumers.  Two hours is the length of our New Years Eve LAUNCH! event, where our community rings in the new year together at Old Town Hall. The 250+ local storefronts we serve are essential to the health of downtown Salem, so we try to spend a minimum of two hours every week checking in with them.  We can get a lot done in two hours, but there never seems to be enough of them – imagine what we could do with more! Become a Friend of Salem Main Streets today with a tax-deductible donation.
In addition to individual donations, SMS also has sponsorship opportunities to get your business in front of an engaged local audience. Sponsors can enjoy chatting about their services with shoppers at the Farmers Market, or hand out swag at the Ice Scream Bowl, or have an ice sculpture of their choice at Salems So Sweet. Recent collaborations, like working with our partners at Creative Collective on the Salem Arts Festival, mean that your sponsorship will be recognized more effectively to a broader audience than ever before. Find out more about becoming a sponsor!
Your assistance and donations truly help bring Salem to life. As we reflect on a great year and look forward to the next, it is more apparent than ever that our nonprofit is going to need more resources to keep impacting positive change in the downtown. Donating to SMS or sponsoring our work will help in the effort to keep our astonishing and unique downtown area vitalized for many seasons to come. Thank you for being a part of what makes our community so special.