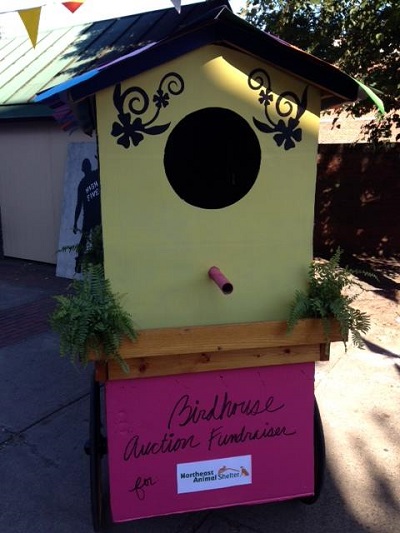 The Salem Collection of Artists and Musicians on Artists' Row is conducting the 4th Annual Gimme Shelter Birdhouse Auction Fundraiser to benefit the Northeast Animal Shelter today from 2 to 4pm at Artists Row, 24 New Derby Street.
Birdhouse Auction?
The Northeast Animal Shelter, established in 1976, is one of New England's largest nonprofit shelters that does not destroy any of the pets entrusted to its care. But, the operating budget must be built from contributions as there is no funding from municipal, state or federal sources.
An open call went out to motivate artisans, crafters and anyone handy with a hammer /nail to make and donate birdhouses of any size, shape or materials to the auction. Conceptual, functional and literal pieces were welcome and have been on display at Artists' Row.
Kate and Jamie Leavy, owners of Roost, originally launched this project as a creative way to raise funds for the Shelter. They passed it on to the Salem Collective of Artists & Musicians. And over the years Gimme Shelter Birdhouse Auction Fundraiser has proven to be a fun event that involves the community and creates some very interesting looking birdhouses.
The Salem Collective of Artists & Musicians is located on Artists' Row in downtown Salem. It makes & sells art as well as offers free workshops and performances now through the end of October. For more information call (978) 219-7226.
(Image courtesy of Salem Collective of Artists & Musicians)