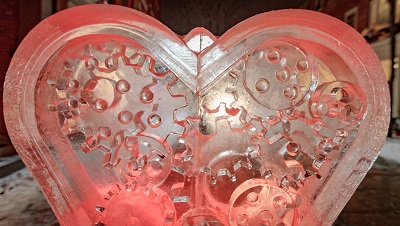 Valentine's Day is a special time to remind people to shop and dine locally. Now in its 17th year in partnership between Salem Main Streets and the Salem Chamber, Salem's So Sweet offers local businesses many different opportunities to participate
Option 1: Brochure Listing and "Golden Ticket" 10% Promotion – $50
In celebration of the chocolate weekend, many of Salem's finest restaurants may feature special chocolate offerings on their menus,including desserts, cocktails, and inventive sauces. Participating Salem retailers may take part with in-store events and promotions, displays and items geared toward chocolate and Valentine's Day. A description of your promotion is listed in the brochure.
The Golden Ticket 10% Promotion allows shoppers who make a purchase at one participating business to receive 10% off a full price purchase at any other participating business. Restrictions may apply as needed, and for restaurants, discounts can be for food only. This promotion will apply on Saturday, Feb. 9 and Sunday, Feb. 10 ONLY.
Option 2: Chocolate & Wine Tasting Kick-Off event – Free
Location: Colonial Hall at Rockafellas, Friday, February 8, 6:30 PM – 8:30 PM
This popular tasting event, which sells out every year, features wine, chocolate, and other sweet samplings from restaurants, gourmet food stores, and chocolate shops. We are looking for Salem restaurants /caterers to participate!
Restaurant / Caterer / Package Store Responsibilities:
Food must be prepared off-site.
Each restaurant will want an opportunity to give people a taste,so please consider this when determining your portion/taste offering. (250 – 300+people).
Please provide your own napkins, paper plates and utensils, and sanitizer solution.
Promotional materials for your establishment, menus, catering, etc. are allowed.
Set-up time is between 5:00-6:00pm.
2 cases of wine or equivalent recommended if bringing a beverage.
Each restaurant is responsible for their own trash removal.
Organizers Will Provide:
A 6-foot long table and table coverings.
Wine glasses

Option 3: Ice Sculptures – $460 to $875
Order an ice sculpture! Ice sculptures will be built around the downtown area of Salem to help increase foot traffic the weekend before Valentine's Day. Make sure to get one near your business! We will coordinate the ice sculpture orders and themes with Ice Effects (contracted company) for you. Sculptures range from $460 to $875. We are lighting the sculptures at night on Saturday, Feb. 9, thanks to Retonica.
Option 4: Sponsor!
We have multiple options to sponsor the festival and make your support visible to the thousands of locals and visitors who attend annually. Contact Rinus Oosthoek at rinus@salem-chamber.org or 978-744-0004 x116 for more information.
DEADLINE FOR ALL PARTICIPATION – JANUARY 8, 2019
If you would like to participate, you can contact kylie@salemmainstreets.org for a form, or complete the form online here