The Holiday Window Contest is back!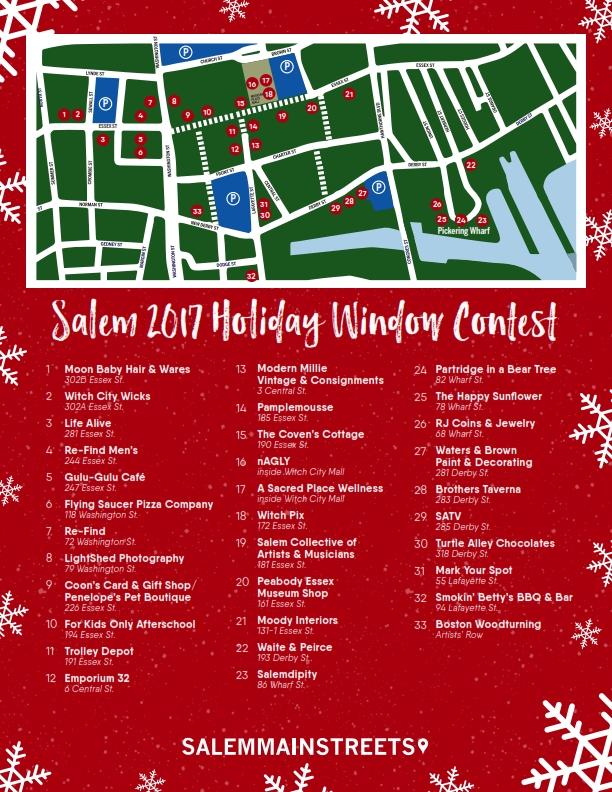 The holidays are here, and Salem is dressed for the season with trees, wreaths, and ribbons. To top it off, over 30 downtown businesses have decorated their windows especially for the holidays! Judges nominated by Salem Main Streets made the rounds to vote on the best windows.
Some award categories highlight good retail design – use of store products or display of a business' services, use of lighting – or types of design, like painted windows. Again this year, the Contest Legacy award is given to businesses who have demonstrated high quality windows across consecutive years, while the Contest Newcomer recognizes businesses with high quality displays who have not previously or regularly participated in the contest.
Best Overall: Mark Your Spot
Honorable Mention – Emporium 32 and The Happy Sunflower
Contest Legacy (demonstrating high quality year after year): The Coven's Cottage and Pamplemousse
Contest Newcomer: Moody Interiors
Honorable Mention – Witch City Wicks and Waite & Peirce
Best Use of Product: Boston Woodturning
Honorable Mention – Partridge in a Bear Tree and Waters & Brown
Best Showcase of Service: Witch Pix and LightShed Photography
Best Use of Lighting: Mark Your Spot
Honorable Mention – Peabody Essex Museum Shop
Best Painted Windows: Brothers Taverna and Life Alive
Honorable Mention – SATV
We especially recommend checking out the windows during Festive Fridays, when numerous businesses around the downtown have committed to staying open until 8 pm to aid in your holiday shopping. More information about Festive Fridays and participating businesses can be found at http://salemmainstreets.org/festivals/holiday-happenings/salem-festive-fridays/.
In addition, this year, you get a chance to win! Salem Main Streets holds two social media competitions on Facebook and Instagram right now. Post a picture of your favorite #salemholidaywindows, or take a #selfiewithashopkeeper on Festive Friday nights, and you could win a prize from a local business.