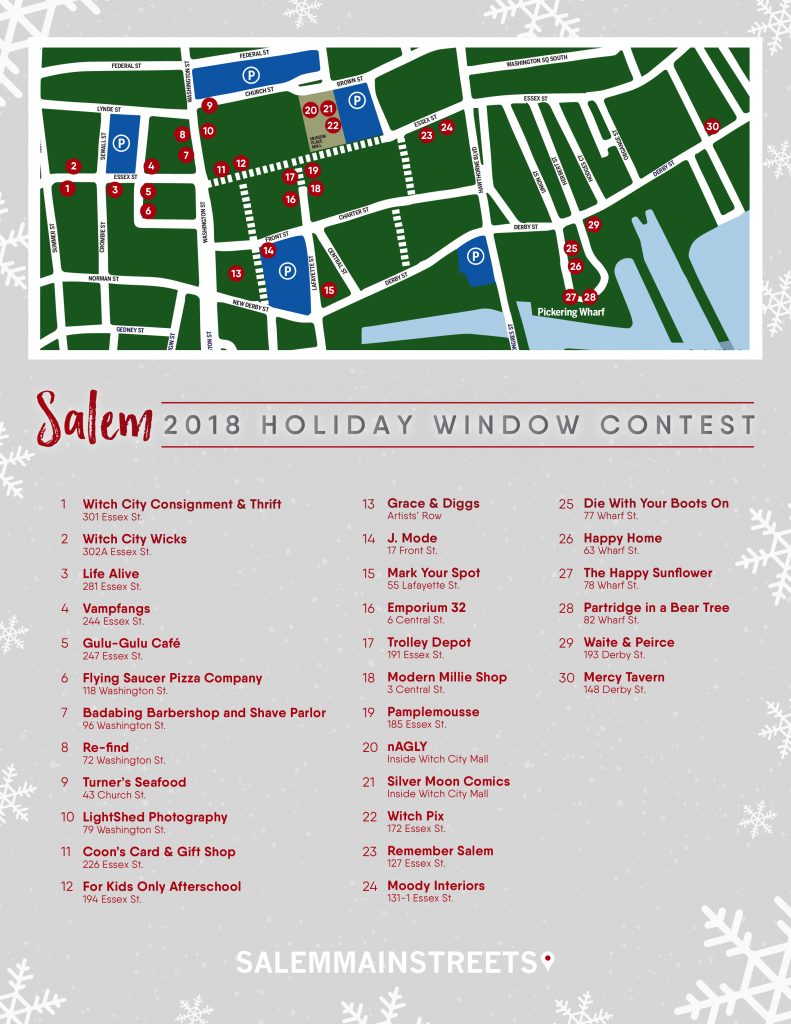 The holidays are here, and Salem is dressed for the season with trees, wreaths, and ribbons. To top it off, 30 downtown businesses have decorated their windows especially for the holidays. Judges nominated by Salem Main Streets made the rounds to vote on the best windows.
Some award categories highlight good retail design – use of store products or display of a business' services – or types of design, like most traditional. The Contest Newcomer recognizes businesses with high quality displays who have not previously or regularly participated in the contest. We also included a "Shout-Outs" category this year for businesses that ended up on several judges' final lists and were deserving of recognition.

Best Overall: Mark Your Spot
Honorable Mention – Witch City Wicks and Witch Pix
Best Use of Product: Witch City Consignment & Thrift
Honorable Mention – Pamplemousse and Modern Millie Shop
Best Traditional: Turner's Seafood
Honorable Mention – Remember Salem and LightShed Photography
Contest Newcomer: Grace & Diggs and Vampfangs

Salem Main Streets Shout-Outs: Coon's Card and Gifts, The Happy Sunflower, and Emporium 32
A full set of images can be found online here.
1 Witch City Consignment & Thrift, 301 Essex St.
2 Witch City Wicks, 302A Essex St.
3 Life Alive, 281 Essex St.
4 Vampfangs, 244 Essex St.
5 Gulu-Gulu Café, 247 Essex St.
6 Flying Saucer Pizza Company, 118 Washington St.
7 Badabing Barbershop and Shave Parlor, 96 Washington St.
8 re-find, 72 Washington St.
9 Turner's Seafood, 43 Church St.
10 LightShed Photography, 79 Washington St.
11 Coon's Card & Gift Shop, 226 Essex St.
12 For Kids Only Afterschool, 194 Essex St.
13 Grace & Diggs, Artists' Row
14 J. Mode, 17 Front St.
15 Mark Your Spot, 55 Lafayette St.
16 Emporium 32, 6 Central St.
17 Trolley Depot, 191 Essex St.
18 Modern Millie Shop, 3 Central St.
19 Pamplemousse, 185 Essex St.
20 nAGLY, inside Witch City Mall
21 Silver Moon Comics, inside Witch City Mall
22 Witch Pix, 172 Essex St.
23 Remember Salem,127 Essex St.
24 Moody Interiors, 131-1 Essex St.
25 Die With Your Boots On, 77 Wharf St.
26 Happy Home, 63 Wharf St.
27 The Happy Sunflower, 78 Wharf St.
28 Partridge in a Bear Tree, 82 Wharf St.
29 Waite & Peirce, 193 Derby St.
30 Mercy Tavern, 148 Derby St.