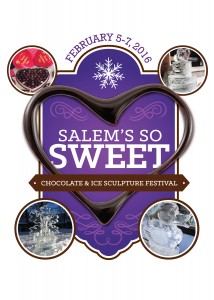 Salem's So Sweet Chocolate and Ice 2016 Festival – Feb. 5 through Feb. 7, 2016!
Salem Main Streets, the Salem Chamber of Commerce, Destination Salem, and local retailers, restaurants, and businesses invite you to attend the 14th annual Salem's So Sweet Chocolate & Ice Sculpture Festival. A decadent tradition of delectable chocolate, sparkling ice sculptures, and Valentine's Day shopping…don't miss Salem's sweetest event of the year!
Chocolate & Wine Tasting Kick-off Event  – Friday, Feb. 5, 2016, 6:30 pm at Colonial Hall at Rockafellas
This luscious tasting event features wine and chocolate samplings from premier Salem restaurants, stores, and sweet shops, as well as music by Molly Pinto Madigan.  One of the year's most popular events, tickets sell out every year! Event sponsored by Social Palates. THIS EVENT HAS SOLD OUT.

Ice Sculptures around Town – Starting Feb. 6, 2016
This year, we have a record-breaking 23 beautiful ice sculptures that grace downtown Salem starting February 6. Some of the themes for this year's ice sculptures will include The Friendship, the Mad Hatter, an alpaca, and more – including an actual ice bar on Rockafellas' patio! A map of sculptures and locations is available below and on brochures to be distributed around town closer to the festival. Be sure to make plans for a special evening stroll on Saturday, Feb. 6, when some of the sculptures will be temporarily illuminated between 5 pm and 9 pm by Retonica!
The Salem Trolley offers trolley rides around the festival route weather permitting on February 6 & 7 from 12 pm to 4 pm for only $2 an adult (free for children). Trolley pick-up locations include the Visitor Center, Pickering Wharf, and near Rockafellas on Washington Street.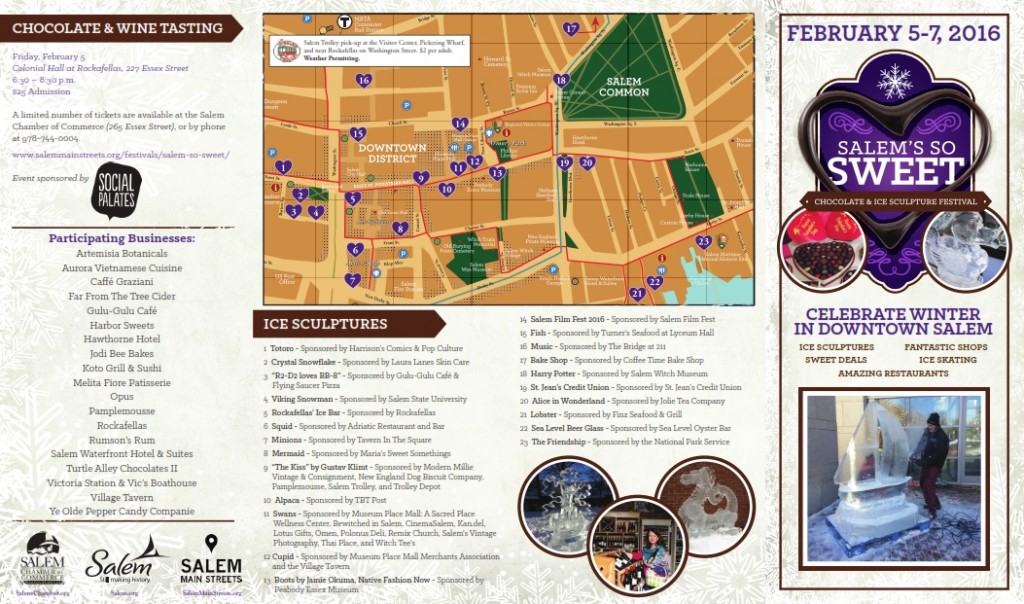 Shopping Promotions and Events – Saturday, Feb. 6 and Sunday, Feb. 7, 2016
Many downtown businesses will offer discounts and special offerings throughout the festival!  This year, we are introducing a new in-store promotion called the "Sweet 10% Promotion" – make a full-price purchase at one participating downtown business and get 10% off your purchase at the next participating business!  A full list of participating businesses and promotions is available below and on brochures distributed around town closer to the festival.
Please note – the small skating rink planned for the Museum Place Mall Fountain by Salem Parks Recreation and Community Services has been cancelled due to the unseasonably warm weather!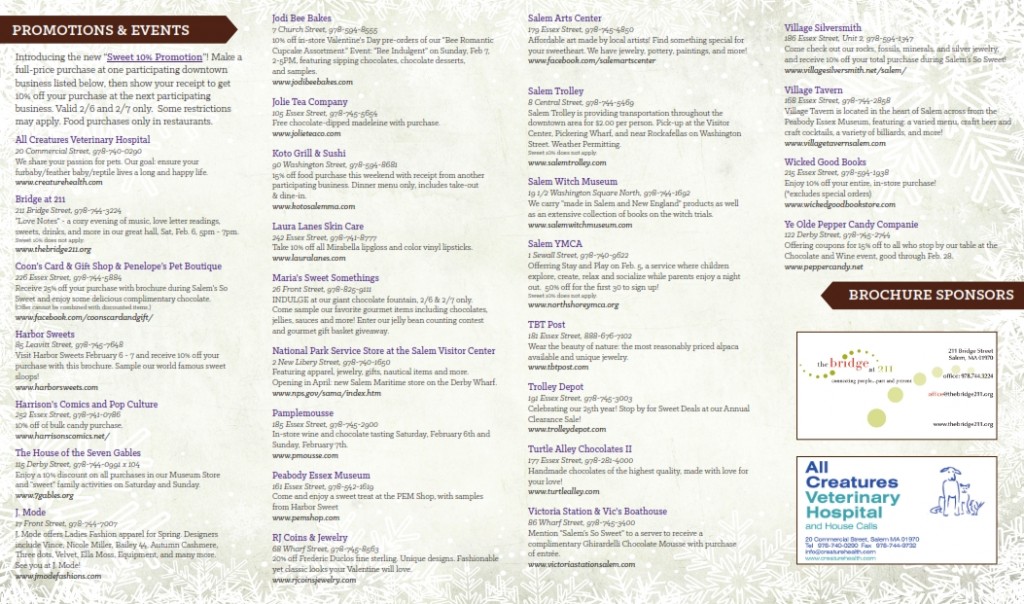 For more information, contact Kylie Sullivan at kylie@salemmainstreets.org or 978.744.0004 x15.
FIND OUT MORE ABOUT VISITING SALEM AT SALEM.ORG.