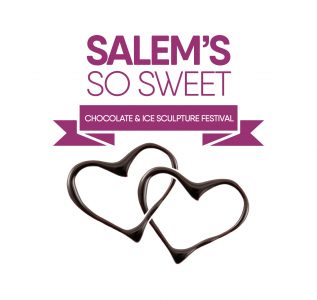 Salem's So Sweet Chocolate and Ice Festival – Feb. 9 through Feb. 11, 2018!
Salem Main Streets, the Salem Chamber of Commerce, Destination Salem, and local retailers, restaurants, and businesses invite you to attend the 16th annual Salem's So Sweet Chocolate & Ice Sculpture Festival. A decadent tradition of delectable chocolate, sparkling ice sculptures, and Valentine's Day shopping…don't miss Salem's sweetest event of the year!
Chocolate & Wine Tasting Kick-off Event – Friday, Feb. 9, 2018, 6:30 pm, Colonial Hall at Rockafellas
This luscious tasting event features wine and chocolate samplings from premier Salem restaurants, stores, and sweet shops. The event is graciously hosted by Colonial Hall at Rockafellas at 227 Essex Street, Salem, MA. Tickets are now available for $30 per person.
Ice Sculptures around Town – Starting Feb. 10, 2018
Last year, we had a record-breaking 25 beautiful ice sculptures that grace downtown Salem. Some of the themes for last year's ice sculptures included the Queen of Hearts, Cinderella's Carriage, a goat named Bella and more – including actual ice bars at Rockafellas' and the Regatta Pub! Stay tuned for more information about this year's sculptures.
Be sure to make plans for a special evening stroll on Saturday, Feb. 10, when the sculptures will be illuminated between by Retonica!
Golden Ticket and Additional Events – Saturday, Feb. 10 and Sunday, Feb. 11, 2018
Many downtown businesses will offer chocolate samplings and sweet discounts around downtown Salem all weekend in celebration of Valentine's Day. Check to see who is participating in the "Golden Ticket" – make a full-price purchase at one participating downtown business and get 10% off your purchase at the next participating business! Offer is good Feb. 10 and 11 only, some restrictions may apply. In addition, many of Salem's finest restaurants and retailers will be offering their own luscious chocolate and love-inspired specials and events.
For more information, contact Kylie Sullivan at kylie@salemmainstreets.org or 978.744.0004.
FIND OUT MORE ABOUT VISITING SALEM AT SALEM.ORG.