Salem's So Sweet
Chocolate and Ice Sculpture Festival!
This decadent tradition of delectable chocolate, over 15 sparkling ice sculptures, chocolate sampling and Valentine's Day shopping is coming soon February 10 – 14, 2012.
For a copy of the festival brochure click here. The festival kicks off with a Chocolate and Wine Tasting Friday, February 10 at Hamilton Hall. This luscious tasting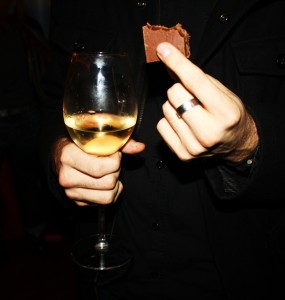 event, now in its tenth year, features wine and chocolate samples from many of Salem's premier restaurants and shops. The Chocolate and Wine Tasting is sponsored by the Salem Waterfront Hotel & Suites.  Participants include: 62 Restaurant & Wine Bar, Adriatic Restaurant & Bar, Ben & Jerry's, Busa Wine and Spirits, Café Polonia, Caffe Graziani, Capt.'s Premium Steak & Seafood Grill, Captain Dusty's Ice Cream, Finz Seafood & Grill, The Great Escape, Green Land Café, Gulu-Gulu, Pamplemousse, Rockafellas, Salem Waterfront Hotel, Sweet Adeline's, Thai Place, Victoria Station and Ye Olde Pepper Co. Tickets are $25 and can be purchased in advance at the Salem Chamber of Commerce, 265 Essex Street.
The 2012 festival will feature:
The Wine and Chocolate Event - February 10
Fantastic Ice Sculptures – February 11 & 12
Promotions, Events and Great Shopping – February 10 – 14
The Golden Ticket Raffle
A Window Decorating Contest
…and much more!
The Salem Trolley will be offering trolley rides around the festival route weather permitting on February 11 & 12 from 12 – 4 for Adults $1, children are free. Pick up locations include the Salem Visitor Center, Pickering Wharf and Washington Street near Eastern Bank.
Events:
 "En Amor Latin Dance" Presented by the Salem Jazz and Soul Festival  (www.salemjazzsoul.org)  6-piece latin dance band, dance lessons, complimentary food!  $70 couples/$40 singles.  7-10pm Sunday, 2/12/12 @ Red Lulu.  Doors 6:30.  Cash bar.  21+ Visit website for tickets and info.
 J. Mode Fashions, 17 Front St., (978) 744-7007,  J. Mode's ladies night Thursday, Feb. 9 5:30 -8 p.m. Join Jenny Johnson, + champagne, chocolates, gift cards + special raffles. Contemporary clothing for women Tince Trina Turk-Dots… jmodefashions.com
 J'Adore Romantic Gift Shop featuring A Beautiful Corset, 10 Derby Square, (978)740-2922 Create your own personal scent-ual signature at our customizable fragrance bar. Samples Free Sat., Feb. 11. (Be serenaded by a violinist from 12 – 2 p.m.) abeautifulcorset.com
Meet Clifford, the Big Red Dog, Old Town Hall, Derby Square, Sat from 11 – 5. Crafts, entertainment, book fair & fun for the family! Free to the Public!
Mud Puddle Toys, 221 Essex St., (978) 740-5400, Make your own Valentine Cards from 12 – 3 p.m. Sat. & Sun. for kids. All weekend, entertaining silly games for children and a chance to win prizes. mudpuddletoys.com
Pamplemousse, 185 Essex St., (978)745-2900 Wine, Mead & Chocolate Tasting  2 – 5 p.m.,  Free to the public.  Isaaks of Salem will be on hand sampling their special edition Cupid's Sweet Kiss Mead. pmousse.com
Salem Theatre Company, 90 Lafayette St., (978)790-8546  $3 off your tickets for Salem Theatre Company's THE REAL THING (thru Feb. 18) with this brochure. To get discount, reserve tix at 978-790-8546 and pay cash/check at the door. www.salemtheatre.com
 Restaurants, Cafes and Accommodations…
 Adriatic Restaurant and Bar, 155 Washington St., (978) 594-1832, Casual downtown Mediterranean Restaurant where simple and fresh meets tradition. adriaticrestaurantandbar.com
Finz Seafod & Grill, 76 Wharf St., (978)744-8485 Waterfront dining on Pickering Wharf, featuring award winning fresh, local, seafood, raw bar and live entertainment. Available for functions from 35 – 100, hipfinz.com
 Gulu-Gulu, 247 Essex St., (978) 740-8882,  European style café in the heart of downtown Salem! Come in for a hot apple cider or hot chocolate for only $1.50 during the Salem's So Sweet festival. Just show us this brochure. gulu-gulu.com
Hawthorne Hotel, 18 Washington Sq. W., (978)825-4311 Bring your sweetheart to the Hawthorne Hotel! Ask your server in Nathaniel's about our complimentary Salem So Sweet dessert (with your entree) or ask our Front Desk about the special Sweetheart Package! Hawthornehotel.com.
Salem Beer Works, 278 Derby St., (978)745-BEER February is chocolate month at Salem Beer Works – be carried away with our deep, dark stouts & chocolate infused menu specials. Beerworks.net
 Salem Waterfront Hotel, 225 Derby St., (978) 740-8788, Transform your outing into a romantic rendezvous. Book your reservations and mention Salem's So Sweet to receive your exclusive $99 rate. salemwaterfronthotel.com
Tavern in the Square, 189 Washington St., (978) 744-4080,  Located in the heart of Salem will feature a divine menu of chocolate drinks all week long with a free Valentine's dessert with a purchase of two entrees. taverninthesquare.com
Thai Place, Museum Place Mall on Church St. next to Cinema Salem, (978) 741-8008, Free gift and discount card with dinner on Valentine's Day. thaiplace.net
 Chocolate Sampling, Promotions and more…
 Bernard's Jewelers, 179 Essex St., (978) 745-0638,  Stop in for a free jewelry inspection, cleaning & jar of cleaner. Scan the QR in our window for more! bernardsjewelers.com
Boston Bead Company, 10 Front St., (978) 741-2323, Located on Historic Front Street offers an ever-changing selection of the finest beads and jewelry making supplies for the discerning maker. bostonbeadcompany.com
Coon's Card and Gift Shop, 226 Essex St. (978)744-5884 Receive 25% off your purchase with Golden Ticket during the Salem's So Sweet Festival and enjoy some delicious complimentary chocolate. (Offer cannot be combined with discounted items.)
 Kensington-Stobart Gallery, 18 Washington Sq., (978) 852-0022,  We will be passing out complimentary chocolates. kensingtonstobartgallery.com
Living With Pets, 73 Wharf St., (978) 740-9663 20% off anything in store with golden ticket and a free treat if you have 4 feet.
Maria's Sweet Somethings, 26 Front St., (978) 825-9111,  Indulge…at our chocolate fountain, sample new gourmet products and old favorites. Handmade chocolate demonstration 12 – 4 p.m. Sat. & Sun. Gift basket giveaway, too! Yummy! mariassweetsomethings.com
Milk and Honey Green Grocer, 32 Church St., (978) 744-6639, In-store chocolate tasting on Feb. 14 from 4 – 7 p.m.  Come in and try Theo Organic/Fair Trade Chocolate.  Show your sweetheart you care where your chocolate comes from. milkandhoneysalem.com
Omen, 184 Essex St., (978)666-0763, A Psychic Parlor & Witchcraft Emporium offering $10 off readings. Love magic demonstrations with our love magic products. omen.com
Peabody Essex Museum Shop, 161 Essex St., (866) 745-1876,  Visit the museum shop to sample a Harbor Sweets Chocolate on Sat. and Sun., Feb. 11 & 12. pem.org
Penelope's Pet Boutique, 99 Washington St., (978)745-0566 Pet lovers and pets, warm up with 25% off your purchase with the Golden Ticket, and enjoy coffee, chocolate, and treats for your pet. (Offer cannot be combined with discounted items.) penelopespetboutique.com
Picklepot, 75 Wharf St., (978) 744-6678, Spice emporium, kitchen gadgets, tea and more. You have to eat; you may as well make it taste good! picklepot.com
Roost Urban Country Design + Beehive, 40-38 Front St., R(978) 744-4663 or B(978) 744-0663  This Valentine's Day, make Roost and the Beehive your "favorite couple". The perfect mix of jewelry, cards, candles, accessories, books, and gifts for your sweetheart. roostsalem.com and salembeehive.com
Rouge Cosmetics, 322 Derby St., (978) 740-1044,  Rouge is the place to find pamper her/him treats for your loved one! Fragrances, Bath & Body, Makeup, Men's & more, plus free gift wrap. www.rouge.com
Salem Witch Museum, 19 ½ Washington Sq. N., (978) 744-1692,  Show your Golden Ticket at the Salem Witch Museum gift shop & save! Spend up to $50 and receive 25% off your total purchase. Spend over $50 & receive 35% off. salemwitchmuseum.com
Salemdipity at Pickering Wharf, 86 Wharf St., (978) 745-5556,  Free Kisses!!! (of the chocolate variety!) and special discounts. Valentine gifts like Zip Hoodies,  Cute Tees, and Salem Charms. Winter hours 11-5 p.m.  pickeringwharf.com/salemdipity
Scrub, 230 Essex St., (978) 594-8391 Bubbly for Valentine's? Heat things up with all-natural bubble bath, bath bombs, and shower steamers.  We make bathing fun.
 Sophia's, 105 Essex St., (978) 741-1809,  Visit Sophia's and enter a drawing to win a Sid Dickens Memory Block of your choice. Enjoy complementary refreshments and 20% off of your purchase over $100.00 on Feb. 11 & 12. sophiasofsalem.com
Trolley Depot, 191 Essex St., 978-745-3003 Stop by for chocolate treats and discounts! Great gift for your Valentine? Sparkly Jewelry? Cute Tee-shirts? We've got them and more!  Winter Hours 9:30 – 6 p.m. Mon.-Sat., 11 – 5 p.m. Sun. www.trolleydepot.com
Urban Elements, 83 Washington St., (978) 666-4408,  Stop by Urban Elements to taste the most delicious and unique chocolate bars by Vosges! Try our newest flavor the Smoke & Stout Caramel Bar! YUM! urbanelementshome.com
For more information or to participate contact Jennifer Bell at jennifer@salemmainstreets.org or 978.744.0004.