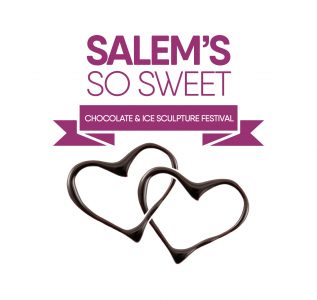 Salem's So Sweet Chocolate and Ice Sculpture Festival – Feb. 10 through Feb. 12, 2023
Salem Main Streets and the Salem Chamber of Commerce invite you to participate in the annual Salem's So Sweet Chocolate & Ice Sculpture Festival – a decadent tradition of delectable chocolate, sparkling ice sculptures, and Valentine's Day shopping! Now in its 21st year, we are continuing to evolve the signature elements of our event to better reflect the challenges and opportunities within our business community and incorporate best practices learned over the years.
Elements of this year's festival will include:
Ice sculptures around town, starting with installation on the Essex Street Pedestrian Mall on Friday, Feb. 10th
Evening illumination of ice sculptures on Friday, Feb. 10 and Saturday, Feb. 11 from 5 pm to 8 pm
A Kickoff Party (ticket link below!) and late night shopping on Friday, Feb. 10 to replace the previous Chocolate & Wine Tasting event.
The Chocolate Hearts Challenge on Saturday, Feb. 11 and Sunday, Feb. 12 – an QR code game in businesses around town with prizes for participants
Sweet treats and deals at many of the amazing local shops and eateries all weekend!
Salem's So Sweet is made possible by support from local businesses Blackcraft, Peabody Essex Museum, the Anti-Valentine's Tour by Salem Night Tour, Witch City Walking Tours, Gourmet Caterers, Marblehead Bank, Nocturne, Re-find, Seagrass, and Timeless Life Treasures & Enchanted, in part by a grant through the City of Salem and U.S. Economic Development Administration, and is supported by tourism dollars through Destination Salem.
Salem's So Sweet Kickoff Event, Friday, Feb. 10
NEW THIS YEAR! Salem's So Sweet gets started with a new Kickoff Event fundraiser on Friday, February 10. Ticket buyers will start at the Peabody Essex Museum's Connect Space (135 Essex Street) with timed entries beginning at 4:50 pm, where they will receive a commemorative glass, a complementary pour of wine, live music by Alexandra and Josh, and a goodie bag of sweet treats before heading out to explore. There will be multiple shops nearby providing wine tastings for ticket holders, and participants can enjoy the illuminated ice sculptures and live music on the Essex Street Pedestrian Mall. Additional downtown retailers will be staying open until 8 pm that evening for shopping, treats, and/or tastings. Many downtown restaurants will be running unique specials and tastings as well.

Tickets are $40 and must be purchased for one of three different timed sessions (4:50PM – 5:30PM, 5:30PM – 6:10PM, 6:10PM – 6:50PM) where ticket holders will be able to check in, receive their wine glass, pour of wine, and goodie bag. Ticket buyers may arrive any time during their selected window.
TICKETS ARE SOLD OUT FOR THIS EVENT.

Ice Sculptures, installation beginning Friday, Feb. 10
Over 25+ ice sculptures will be on display for viewing around town during the festival. A special sneak peek with a limited number of sculptures will be illuminated on Friday night on the Essex Street Pedestrian Mall and Lappin Park only, and on Saturday night all of the sculptures will be lit. Sculptures will be illuminated between 5:00 p.m. and 9:00 p.m. both nights, weather permitting. SPECIAL this year, traveling installation Brighter Ignited by Tova Speter will be on display during the illumination, brought to us by the Jewish Arts Collaborative and sponsored by Creative Collective. See a full map of sculptures below (printed maps will also be available onsite at our information stations!).
For additional festivities, musicians will be strolling and treating attendees to tunes at peak sculpture viewing times – including ChagallPAC ensemble, Annie and the Fur Trappers, the Velvet Dirtmunchers, and Coventry Brass. Mural artists Meg Nichols (@paintedladysignco) and Desiree Ferreras (@paintmemedusa) will be painting window murals in several storefronts around the downtown, sponsored by the City of Salem Public Arts Commission.
The Salem Trolley is providing transportation throughout the downtown area for $2.00 PER PERSON on Saturday & Sunday, 12 pm-4 pm. Pickup will be at the NPS Visitor Center, Trolley Depot, Rockafellas, Salem Witch Museum, Salem Waterfront Hotel, Pickering Wharf, and The House of the Seven Gables. Weather permitting.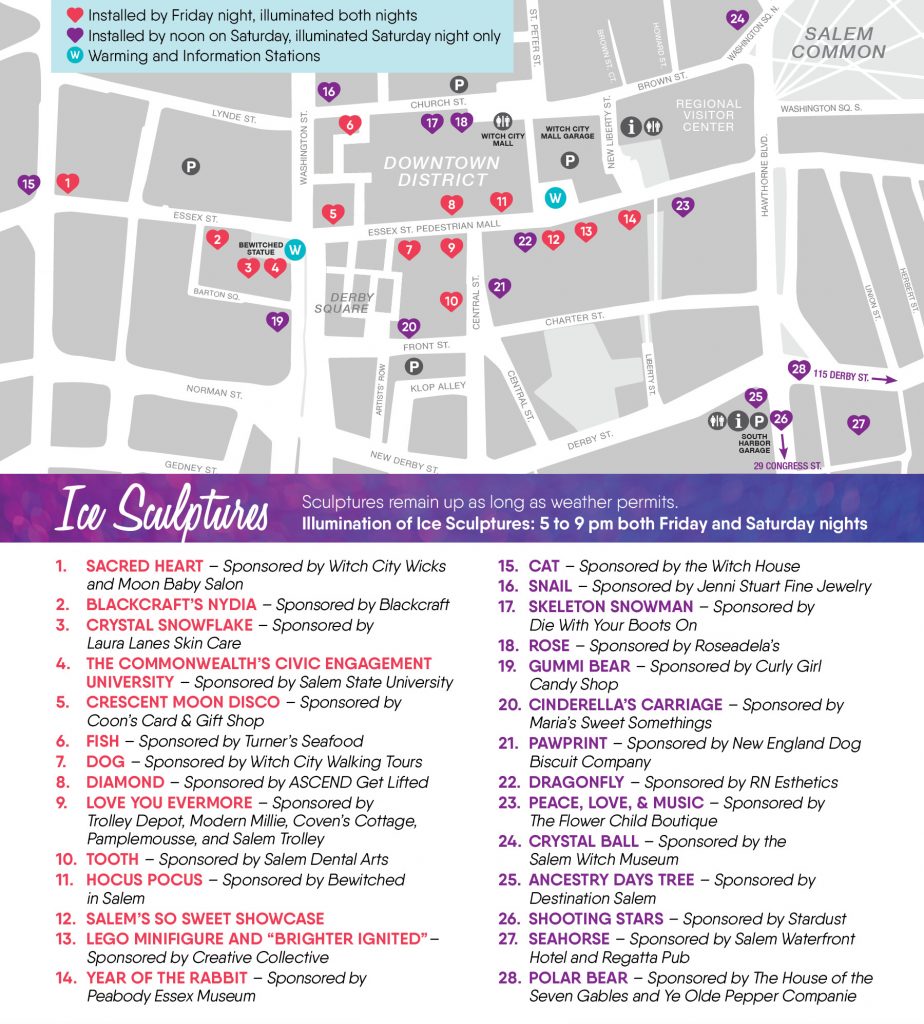 Chocolate Hearts Challenge, Feb. 10 through 12
Play the "Chocolate Hearts Challenge" for a chance to win prizes! Snap a picture of at least 5 of our special Chocolate Hearts logos at a participating business and upload them HERE before the end of the day on Sunday, Feb. 12. A purchase by the customer is not required but is highly encouraged. See a full list of participating businesses below:
Barrio, 41 Lafayette Street
Blackcraft, 253 Essex Street
Black Cat Curiosity Shoppe, 234 Essex Street
The Chocolate Pantry, 140 Derby Street
Circle of Stitches, 66 Wharf Street
Coon's Card & Gift Shop, 226 Essex Street
Curly Girl Candy Shop, 140 Washington Street
Die With Your Boots On, 9 Church Street
East Regiment Beer Company, 30 Church Street
Enchanted Shop, 98 Wharf Street
The Finery Shop, 63A Wharf Street
Finz Seafood & Grill, 86 Wharf Street
The Flower Child Boutique, 131-4 Essex Street
The Gyro Spot, 128 Washington Street
The Happy Sunflower, 78 Wharf Street
Hawthorne Hotel, 18 Washington Square W
Hex: Old World Witchery, 246 Essex Street
Hive & Forge, 30 Church Street
The Hotel Salem, 209 Essex Street
House of Boo, 75 Wharf Street
Intramersive @ Diehl Marcus & Co (Sat night only), 11 Central Street
J.Mode, 17 Front Street
Jodi Bee Bakes, 282 Derby Street
Jolie Tea Company, 316 Derby Street
Kakawa Chocolate House, 173 Essex Street
Lifebridge Thrift Store, 47 Canal Street
Lulu's Bakery & Pantry, 285 Derby Street
The Marble Faun Books & Gifts, 102 Wharf Street
Maria's Sweet Somethings, 26 Front Street
Modern Millie, 3 Central Street
Moody's Home & Gifts, 109 Essex Street
Nocturne, 18 Front Street
The Ossuary, 77 Wharf Street
Omen, 184 Essex Street
Pentagram, 282 Derby Street Rear #3
Re-find, 72 Washington Street
Rockafellas, 231 Essex Street
Salem Bespoke Boutique, 127 Essex Street
The Salem Flea @ Ames Hall (Saturday only), 290 Essex Street
Salem Waterfront Hotel, 225 Derby Street
Salem Wine Imports, 32 Church Street
Sea Level Oyster Bar, 94 Wharf Street
Stardust, 29 Congress Street
Timeless Life Treasures, 68 Wharf Street
Trolley Depot, 191 Essex Street
Zitelle, 1 1/2 Church Street
For more information, contact Kylie Sullivan at kylie@salemmainstreets.org or 978.744.0004.
FIND OUT MORE ABOUT VISITING SALEM AT SALEM.ORG.