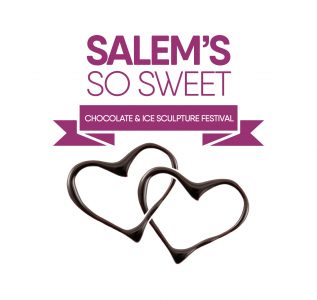 Salem's So Sweet Chocolate and Ice Sculpture Festival – Feb. 11 through Feb. 13, 2022
Salem Main Streets and the Salem Chamber of Commerce invite you to participate in the annual Salem's So Sweet Chocolate & Ice Sculpture Festival – a decadent tradition of delectable chocolate, sparkling ice sculptures, and Valentine's Day shopping! Now in its 20th year, downtown Salem looks and feels very different than when this event was first launched, in a very positive way! We have adapted the signature elements of our event this year to better reflect the challenges and opportunities within our current business community, incorporate best practices learned over the years, and allow for the continued uncertainty of the COVID-19 pandemic this winter. More details will be posted here as we get closer to the festival.
Ice Sculptures – installation begins Friday, February 11
Sparkling ice sculptures will be installed around the downtown area of Salem for the festival weekend. All sculptures will be installed by midday on Saturday, Feb. 12, and illuminated on Saturday night. NEW this year! – a limited number of sculptures will be installed and illuminated on Friday night on the Essex Street Pedestrian Mall and Lappin Park only.
Chocolate Hearts Challenge – February 12 and 13
The Chocolate Hearts Challenge is a points-driven game where customers can scan a unique QR code posted near a business point of sale in order to be entered for a special prize package. A purchase by the customer is not required but is highly encouraged. An e-newsletter will be sent to all game players following the event so you know how to find these businesses all year round. More details coming soon!
*** The new Chocolate and Wine Crawl has been postponed until 2023.
For more information, contact Kylie Sullivan at kylie@salemmainstreets.org or 978.744.0004.
FIND OUT MORE ABOUT VISITING SALEM AT SALEM.ORG.