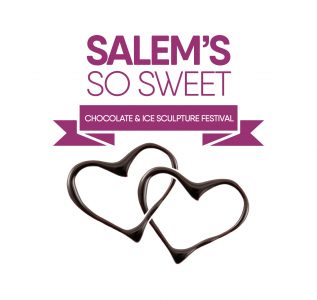 Salem's So Sweet Chocolate and Ice Festival – TENTATIVELY scheduled Feb. 5 through Feb. 7, 2021!
Due to COVID-19, our Salem's So Sweet event will likely look very different in 2021. We are currently in the process of assessing and re-imagining the different elements of our annual winter festival. We remain committed to supporting our local businesses and celebrating our community through this special event. Please stay tuned for more information about adjustments to Salem's So Sweet 2021.

Recap of 2020 Salem's So Sweet Festival

Salem Main Streets, the Salem Chamber of Commerce, Destination Salem, and local retailers, restaurants, and businesses invite you to attend the 18th annual Salem's So Sweet Chocolate & Ice Sculpture Festival. A decadent tradition of delectable chocolate, sparkling ice sculptures, and Valentine's Day shopping…don't miss Salem's sweetest event of the year!
Chocolate & Wine Tasting Kick-off Event
Friday, Feb. 7, 2020, 6:30 pm, Colonial Hall at Rockafellas
This luscious tasting event features wine and chocolate samplings from premier Salem restaurants, stores, and sweet shops. Participating businesses include Adriatic, Captain Dusty's Ice Cream, Far From The Tree Cider, Harbor Sweets Handmade Chocolates, Kakawa Chocolate House. Ledger Restaurant, Pamplemousse Salem, Regatta Pub at the Salem Waterfront Hotel, Rockafellas, Root, Rumson's Rum/Pirate Dog Brand, Turtle Alley Chocolates II, and Ye Olde Pepper Companie.
Ice Sculptures around Town – Starting Feb. 8, 2020
Every year, we install 20+ beautiful ice sculptures that grace downtown Salem starting February 8. A full list and map of sculptures can be found below. Sculptures will be in place by noon on Saturday, Feb. 8th until whenever they melt! Viewing of the ice sculptures is free.
The Salem Trolley offers trolley rides around the festival route weather permitting on February 8 & 9 from 12 pm to 4 pm for only $2 an adult (free for children). Pickup locations will include the Visitor Center, Trolley Depot, Rockafellas, Salem Witch Museum, Salem Waterfront Hotel, Pickering Wharf, and the House of the Seven Gables.
Be sure to make plans for a special evening stroll on Saturday, Feb. 8, when the sculptures will be illuminated between by Retonica! Illumination starts at 5 pm and ends at 9 pm – we recommend prime viewing between 6 pm to 8 pm.
Golden Ticket and Additional Events – Saturday, Feb. 8 and Sunday, Feb. 9, 2020
Many downtown businesses will offer chocolate samplings and sweet discounts around downtown Salem all weekend in celebration of Valentine's Day. Check to see who is participating in the "Golden Ticket" – make a full-price purchase at one participating downtown business and get 10% off your purchase at the next participating business! Find your Golden Ticket in a brochure at the NPS Visitor Center (2 New Liberty Street), on the Salem Trolley, or at any participating businesses. Offer is good Feb. 8 and 9 only, some restrictions may apply. In addition, many of Salem's finest restaurants and retailers will be offering their own luscious chocolate and love-inspired specials and events. Participating businesses and their promotions can be found below.

Salem's So Sweet is organized by Salem Main Streets and the Salem Chamber of Commerce, and supported by Destination Salem, Retonica, Scarlet Letter Press, St. Jean's Credit Union, Rockafellas, and community media partner Creative Collective.
For more information, contact Kylie Sullivan at kylie@salemmainstreets.org or 978.744.0004.
FIND OUT MORE ABOUT VISITING SALEM AT SALEM.ORG.