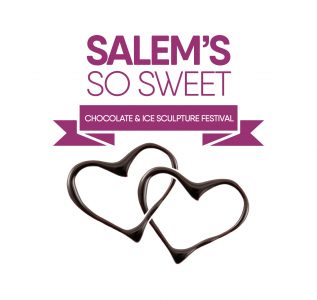 Salem's So Sweet Chocolate and Ice Sculptures – Feb. 1 through Feb. 14, 2021
Thank you to our sponsors!
Salem Main Streets, the Salem Chamber of Commerce, Destination Salem, and local retailers, restaurants, and businesses invite you to participate in the 19th annual Salem's So Sweet Chocolate & Ice Sculpture Festival – a decadent tradition of delectable chocolate, sparkling ice sculptures, and Valentine's Day shopping! This year we remain committed to supporting our local businesses in whatever fashion we can, and encouraging safe ways for our residents to remain connected to our downtown.
Look below for an ice sculpture map, special business promotions, and details about our NEW Love Letter Treasure Hunt (Feb. 13 and 14)!
Love Letter Treasure Hunt – February 13 and 14
NEW – Love Letter Treasure Hunt! Seek out 10 fragments of a love letter between Nathaniel and Sophia Hawthorne hidden in windows around the downtown. Submit the completed text in the form below (or at direct link here) to be eligible for a prize! Each individual clue will be posted in several places to increase your chance of finding them. The prize is a $50 Chamber Gift Certificate (valid at member businesses of the Salem Chamber of Commerce) and a $50 gift certificate to Adriatic Restaurant & Bar. Hint: most of the businesses listed below will have a clue in their windows!
Also this weekend, murals of Love Letters to Salem will be popping up in temporarily underused windows around town. You can find a map of all window murals HERE. During the day, you will find small warming stations at Lappin Park, Derby Square, and Salem Common where volunteers can give you more information about the Treasure Hunt and the Love Letter murals.
The warming stations are sponsored by Salem Five and the Peabody Essex Museum. The Love Letter murals, fire tables at the warming stations, festive lights on the Pedestrian Mall, and installation in the East India Fountain are all part of Salem Winterlude, a collaborative project by Salem Main Streets and Creative Collective, supported by Bench Consulting and funded by the Barr Foundation through a Winter Places grant. Treasure Hunt text is excerpted from the Love Letters of Nathaniel Hawthorne, Vol. 2.
February 1 through 14 – Business Promotions
Delicious local business promotions are available between February 1 and 14 unless otherwise stated. Consider using takeout or curbside pick up options where appropriate. All promotions are subject to change.
Adriatic Restaurant and Bar, 155 Washington Street, 978-594-1832
Artful Life Counseling Center and Studio, 978-548-6288
"Warm Your Heart – a Mini Self Care Retreat" on Sat, Feb. 20 – Guided by expressive arts facilitators, turn inward with to uncover your own personal definition of self-compassion and self-care through journaling, art and movement. Register here: https://app.getoccasion.com/xp/sV5bsztP
Bella Verona, 107 Essex Street, 978-825-9911
Offering a 3 course dinner for $32, also a wonderfully rich Chocolate Roll with whipped cream. Eat in or take out!
BonChon, 299 Essex Street, 978-594-8256
Bonchon features handcrafted chicken using the highest quality ingredients. Each bite and each moment you want to capture and share with the world make up the amazing Bonchon experience.
Brothers Taverna Restaurant, 283 Derby Street, 978-741-4648
Try our nutella-stuffed french toast and our spicy mango margarita! Spicy mango margarita includes a free market item with purchase.
Coon's Card & Gift Shop, 226 Essex Street, 978-744-5884
Come see our "I was born to do this." Joan of Arc ice sculpture, enjoy chocolates, and a gift with purchases over $10!
Die With Your Boots On, 77 Wharf Street, 617-932-9254
Take 15% off your in-store purchase, sale items included!
The Finery Shop, 63A Wharf Street
15% off all sales during Salem's So Sweet.
The Flower Child, 131-4 Essex Street, 315-447-1099
Step back into time at The Flower Child! The Flower Child is a hippie boutique with products inspired by the 60s and 70s!
Flying Saucer Pizza Company, 118 Washington Street, 978-594-8189
Hampton Inn Salem, 11 Dodge Street, 978-414-3100
Bundle up & enjoy, afterwards check into the Hampton Inn Salem! Book & email Jill Gray (Jill.Gray@hilton.com), Harbor Sweets Chocolates will await you in your guestroom!
Hawthorne Hotel, 18 Washington Square W, 978-744-4080
Indulge in a 3 course, prix-fixe menu with chocolate-inspired options for $60 pp OR enjoy this menu for two with an overnight stay and a dozen long-stemmed red roses starting at $299+.
The Hotel Salem, 209 Essex Street, 978-451-4950
Gourmet hot chocolate and a sweet treat in the lobby, Saturdays and Sundays only during Salem's So Sweet.
The House of the Seven Gables, 115 Derby Street, 978-744-0991 The Gables grounds may not be open right now, but you can currently watch a reading of "Dearest Dove: The Love Letters of Nathaniel and Sophia Hawthorne" written by Anne Lucas and performed by Dana Hersey, Jennifer Hurley and Karen Nascembeni, available online thanks to SATV.
Jenni Stuart Fine Jewelry, 201 Washington Street, 978-414-5798
Free jewelry cleaning & inspection by an expert goldsmith (Jenni), and a free gift with purchase!
Jodi Bee Bakes, 7 Church Street, 978-594-8555
Enjoy Vegan and Gluten Free Treats!
Jolie Tea Company, 316 Derby Street, 978-745-5654
Use special code RABBIT for 10% off online orders for pick-up. Visit our Facebook Page for other daily specials!
Koto Grill & Sushi, 90 Washington Street, 978-594-8681
10% off of your food purchase during Salem's So Sweet.
Ledger Restaurant, 125 Washington Street, 978-594-1908
Now open for inside dining in our social-distance-safe dining rooms with a brand-new menu – featuring new desserts like our dark chocolate spumoni mousse, sticky toffee pudding, or our famous donuts during Sunday brunch. All our menus are available for contactless, curbside pickup to enjoy at home!
Maria's Sweet Somethings, 26 Front Street, 978-825-9111
IT'S THE BOMB! Hot chocolate bombs are here. Gourmet treat samples available in store (Feb. 6 & 7 only). Enter 6 different contests, online and in-store!
Moody's Home & Gifts, 109 Essex Street, 978-414-5390
Shop Moody's for Valentine's cards and gifts!
Odd Meter Coffee, 60 Washington Street
Follow our FB page for details about our open hours during Salem's So Sweet.

Pentagram Shoppe, 282 Derby Street, 978-224-2925
We are offering $5 off per reading and 15% off of all purchases in the store.
Sage, 318 Derby Street, 978-594-5174
15%-20% Sale (exclusions apply) and free Valentine's Day gift with purchase.
Salem Cycle, 72 Washington Street, 978-741-2222
20% off any non-sale clothing or accessory purchase during Salem's So Sweet.
Salem Night Tour, 127 Essex Street, 978-741-1170
Walk though Salem's past tales of murderous marriages and love gone wrong. February 5th, 6th, 12th, 13th, and 14th at 8pm. Reservations strongly suggested.
Salem Spice, 62 Wharf Street, 978-744-6678 Order from your favorite Salem shop online and take advantage of all the new methods our local purveyors of goodness have found to fulfill your cravings.
Salem Waterfront Hotel and Regatta Pub, 225 Derby Street, 978-740-8788 10% off your room accommodations and Regatta Pub Valentines Day menu. Come check out the Igloo Dining Experience on the patio.
Seagrass, 3 Dodge Street, 978-498-4183
Salem's Hometown Dispensary. Serving adults 21+ cannabis-infused chocolates, chews and other delicious edibles in-store or online. KEEP THIS PRODUCT AWAY FROM CHILDREN – PLEASE CONSUME RESPONSIBLY
Trolley Depot, 191 Essex Street, 978-745-3003
Our annual Sweet Deals Sidewalk Sale! Indoors (or outside if weather permits!).
Vampfangs, 244 Essex Street
20% off all lingerie and 13% off our new fragrances, "BloodLust" and "The Lovers".
Village Tavern, 168 Essex Street, 978-744-2858
All four (4) dining rooms open for safe maximum spacing. Open 7 days and evenings a week. "Best Steak Tips and Burgers in America!", period. Full Bar service with huge beer selection & seasonal cocktails.
Witch City Wicks, 302A Essex Street, 978-224-2988
10% off in-store, spend $50 get a special Valentine travel tin!
WitchPix, 172 Essex Street, 978-745-2021
20% discount offered with dates available through April, book your witch shoot with your favorite peeps using Witchpix.com/salemsosweet . Love Potion Photo party sold out, but limited supplies of our Love Potion Craft kit are available for pick up Saturday, Feb 13th. $20. https://www.witchpix.com/product-page/craft-kit-love-potion
Wolf Next Door Coffee, 142 Derby Street, 978-594-1540
Stop by the shop for our special chocolate cherry latte during Salem's So Sweet!
Ice Sculptures – Starting February 6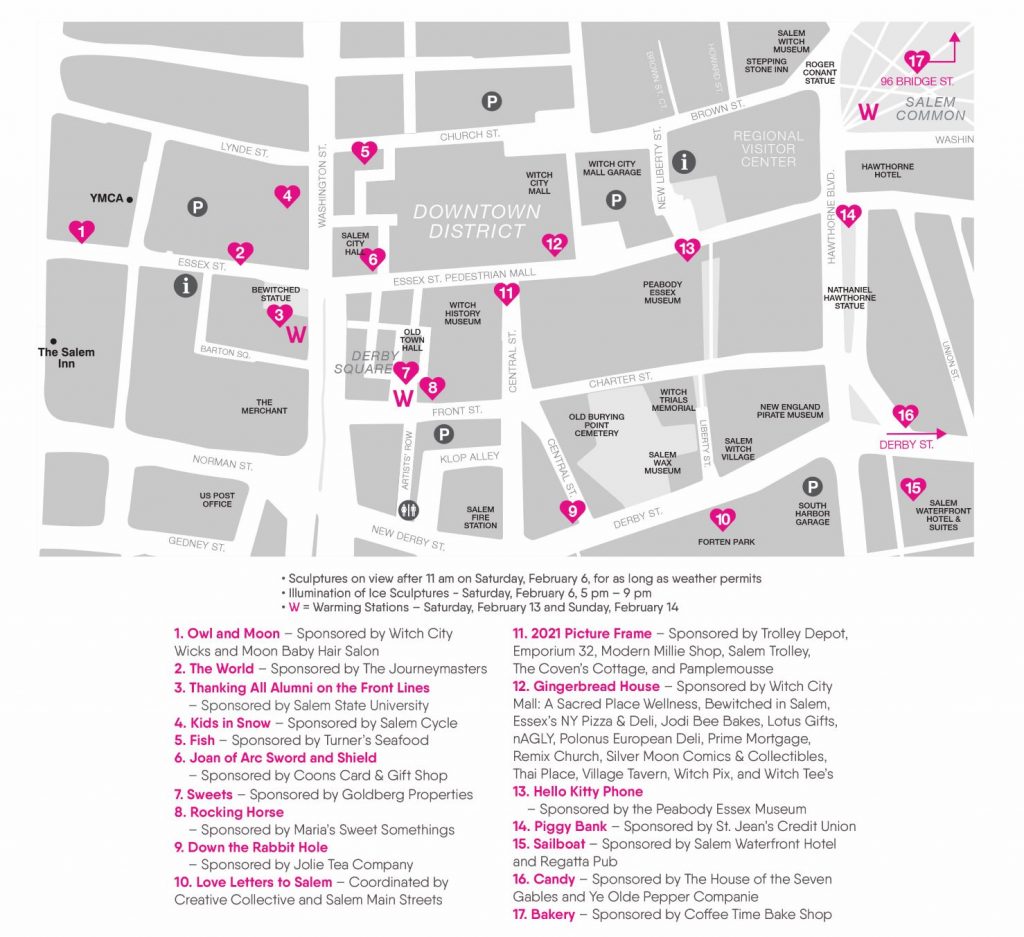 The annual ice sculptures by Ice Effects were installed on Saturday, February 6, and will stay up as long as weather allows (anywhere from a day to over a week). The sculptures were illuminated by local lighting company Retonica between 5:00 p.m. and 9:00 p.m. on Saturday night, February 6 ONLY. The illumination was sponsored by Salem Five and the Peabody Essex Museum.
Here are the most important things to know about the 2021 celebration:

– The first weekend of Feb. 6 & 7 will reflect our usual SWEET programming (ice sculptures and illumination). Ice sculptures will be installed on Feb. 6 and illuminated from 5 pm to 9 pm that evening. Sculptures last as long as weather permits. A map of all sculptures (and a recommended driving route for those sculptures visible from the road) will be posted here shortly.

– The second weekend of Feb. 13 & 14 will HEAT things up with warming stations and an emphasis on spicy as well as sweet. Love letters to Salem will be popping up around the downtown, including our NEW Love Letter Treasure Hunt! More details will be posted here shortly.

– In place of the Golden Ticket and brochure, we will be listing all participating promotions online here. Takeout, curbside pickup, online ordering, and other safely distanced options will be highly encouraged. Business promotions are good Feb. 1 through Feb. 14 unless otherwise specified.

– There will be NO CHOCOLATE & WINE EVENT this year. Instead we will be heavily promoting takeout options from participating restaurants over the course of the two weeks.

We thank you in advance for understanding how flexible things must be this year, and for joining us in celebrating our downtown in the safest ways possible. More details to come over the course of the next month, stay tuned!
Salem's So Sweet is organized by Salem Main Streets and the Salem Chamber of Commerce, and sponsored by Goldberg Properties, Groom Construction, Peabody Essex Museum, Salem Five, St. Jean's Credit Union, and Winer Bros. Hardware, with support from Destination Salem, Retonica, Scarlet Letter Press, and the Creative Collective.
For more information, contact Kylie Sullivan at kylie@salemmainstreets.org or 978.744.0004.
FIND OUT MORE ABOUT VISITING SALEM AT SALEM.ORG.