While October 1st technically starts Salem's month-long celebration of Halloween, the real kick-off has been the Annual Salem Chamber of Commerce Haunted Happenings Grand Parade. This year, the 21st annual parade will be held Thursday, Oct. 6th from 6:30pm-8pm.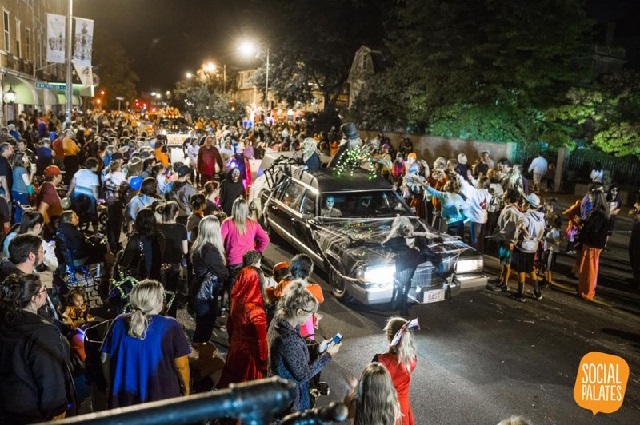 The Salem Chamber of Commerce cordially invites you to participate as a walker, to become a volunteer, or just attend this year's event, which will feature the theme "100 Years of Parks and Play."
The term "children of all ages" could not better describe the participants as thousands of Salem's students from kindergarten to college and our local business owners will be ready to march from Shetland Park to the Salem Common.
Along the way you will see colors, lights, sounds and faces of kids basking in the limelight that for that given moment they are the center of attention. They represent all that is fun about Salem.
The Annual Salem Chamber of Commerce Haunted Happenings Grand Parade will be starting from Shetland Properties on Congress Street then turning left onto Derby Street, right onto Central Street, left onto Front Street, right onto Washington Street, right onto the Essex Street Pedestrian Mall and ending at the Common.
This will necessitate certain road closings from 6pm until 9:30pm.
Congress Street will be closed from Harbor Street to Derby Street.

Derby Street will be closed from Congress Street to Central Street.

Commuters will not be able to use Route 1A between Dodge St. and Brown Street which includes Derby Street, Hawthorne Boulevard and Washington Square at the Common entrance.

Front Street and Washington Street between New Derby Street and Church Street will be closed.

Essex Street will be closed at Washington Street.
When it all stops at the Common, it does not end as there will be a continuing celebration with local favorite DJ Doug entertaining the crowd.
For the latest developments, please check the Salem Chamber of Commerce Haunted Happenings Grand Parade Facebook page
It is a parade, it is a party, it is a traveling brochure of things to come during Haunted Happenings in Salem Ma. this month. And by attending, you will be a part of it!