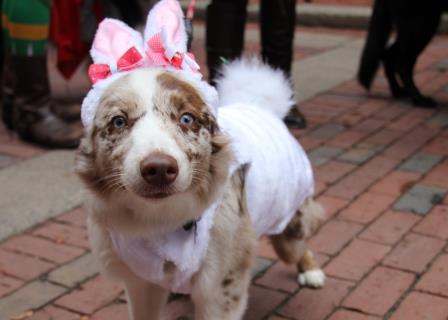 Salem is going to the dogs (and cats, and lizards, and pigs, and…)! Salem Main Streets is very pleased to produce the fourth annual Howl-o-ween Pet Parade, to be held on Saturday, Oct. 13 at 1 pm on Derby Wharf, Salem Maritime National Historic Site.
The event will include an area with information about the National Park Service Bark Ranger Program, local rescues and pet-focused downtown businesses, and most importantly, a parade and costume contest with prizes. Pets of all species are welcome, but should be well-behaved and comfortable at a busy event where there are likely to be many dogs. The parade is rain or shine.
This year, Salem Main Streets is asking all parade participants to register online in advance and have added a small donation of $5. All proceeds go directly to Salem Main Streets in support of special community programs all year round.
"This started as a very casual little event, and every year we grow more and more," says Kylie Sullivan, Executive Director of Salem Main Streets. "I am so excited to move down to the Wharf this year, where we will have more room to spread out and the great backdrop of Salem Harbor. Salem is such a pet-friendly city; it seemed like a no-brainer that we needed a community pet parade during Haunted Happenings. It's such a special way to engage our residents, appeal to our visitors, and celebrate our local business community."
Spectators are encouraged to join us on Derby Wharf or along the loop on Pickering Wharf, perhaps even "tail"-gaiting on Longboards' dog-friendly patio.