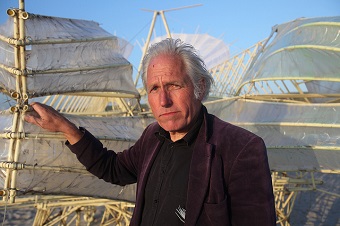 Followers of our blog are well aware of the monthly "Night at the Museum-like" parties that take place on the 3rd Thursday of the month at the renowned Peabody Essex Museum. This Thursday is no different as PEM/PM invites you to take part in/and enjoy a sneak peek of the Strandbeests exhibition at PEM; you will explore ideas through action, motion, demonstration and participation.
What are Strandbeests? They have been described as large mechanisms constructed out of PVC that are able to move on their own. What? Move on their own? (Well, this is Salem MA…). They are the creations of Theo Jansen  and by clicking the link below, you will see them in action.

Intrigued? You are not alone. And the PEM staff have cleverly woven into the framework of the PM event several activities related to the Beests. Even going so far as extending the evening which usually goes from 6-9pm to 11pm!
ALL NIGHT LONG BUILD YOUR OWN STRANDBEEST
Maker Lounge
Create a mini-beest with everyday materials (while supplies last).
THE BIG REVEAL
Special Exhibition Galleries | Level 2
Enjoy a sneak peek of the Strandbeest exhibition before it opens to the public September 19! PEM staff anticipate a large crowd and you might experience a wait to get into the Strandbeest exhibition gallery.
RACE A BEEST
Art Nook
Make your own battery-operated fan and move a mini-beest to the finish line with our Maker Lounge team (while supplies last).
SILENT DISCO
Studio 1, Create Space
Celebrate 25 years of Strandbeests by keeping your body moving like a beest, dancing the night away to some of the best '90s jams (50 headphones available; first come, first served).
WHAT'S YOUR STRANDBEEST NAME?
Atrium
Head to the PEM/PM welcome table to use our Latin-based name generator and title your inner Strandbeest!
DJ NOEL SNOW
6-7:30 and 9:30-11 pm | Atrium
Party like a Strandbeest with digital mashups.
BEER TASTING
6-10 pm | East India Marine Hall
Sample popular Dutch brews!
PLANK WALK
6-10 pm | Bartlett Gallery
Participate in this team challenge to coordinate multiple joints to walk in sync with Beverly's Project Adventure.
SUSTAINABLE SEAFOOD DEMO
6:45, 8:15 and 9:45 pm | East India Marine Hall
Just as Strandbeests were originally created to protect the Dutch coastline, hear from Jim Turner, owner of Turner's Seafood in Salem, discuss efforts to conserve and grow the oyster population in Massachusetts.
BOSTON PERCUSSION GROUP
7:30-8:15 pm | Atrium
A lively performance combining traditional classical instruments and found everyday objects.
ART IN MECHANICS
8-9 pm | Morse Auditorium
Join Swiss watchmaker Audemars Piguet and artist Theo Jansen, exhibition curator Trevor Smith and photographer Lena Herzog for a lively discussion about the similarities between Strandbeests and watchmaking. Seats are limited; tickets at information desk.
LIVE MUSIC AND VIDEO ART
8:30-9:30 pm | Atrium
Boston-based post-rock band I/O performs its latest album Saudade amid video projections created by Somerville artist Mark J. Stock.
OPERATE AN ORDIS
8:30-11 pm | Axelrod Walkway
Animaris Ordis is the foundation for all Strandbeests. Watch and learn how this multifunctional beest moves.
As always, a cash bar and small plates menu is available courtesy of the Hawthorne Hotel. Admission for members and Salem residents (with ID) free, nonmembers $10 at the door . For more details call 978-745-9500, (Toll Free) 866-745-1876. PEM is located aT East India Square (161 Essex St) Salem, MA.
(Photo of Theo Jansen taken by Loek van der klis)