The Salem's So Sweet Festival Brochure is now available! This year's festival is the most spectacular ever – with numerous events including a Polar Plunge, 21 Ice Sculptures (a new record), and the popular Chocolate and Wine Tasting Event in Hamilton Hall.  Thank you to all businesses who are participating in the festival February 4 – 14, 2011.
For a complete festival brochure follow the links below: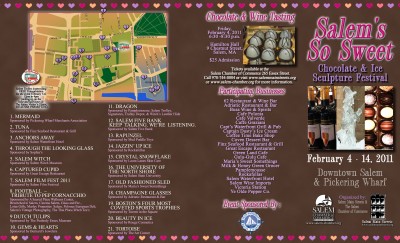 Salem's So Sweet Brochure Page 1
Salem's So Sweet Brochure Page 2
Hard copies will be available closer to the start of the festival.