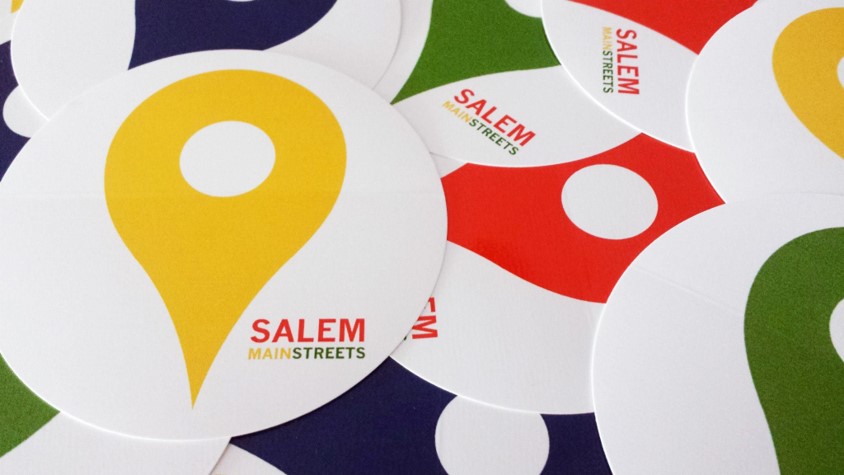 August has turned into fundraiser (friendraiser?) month for Salem Main Streets, and
First off, what is Salem Main Streets again, and why should you support it?
Salem Main Streets' nonprofit mission is the continued revitalization of downtown Salem as a vibrant, year-round retail, dining, and cultural destination through business retention, recruitment, and promotion of the downtown district – a district of over one square mile that includes over 250 active storefronts, multiple cultural attractions and historic assets (including a National Park Service site), and almost a third of the city's population.
We work with businessowners when they are first starting out, when they're beginning to vend at events, when they're ready to find their first storefront, when they're ready to expand, and when they hit any number of setbacks along the way. We operate events that drive foot traffic to the downtown to support existing businesses as well as events that encourage new small business development. We weigh in on public art decisions, city policy improvements and construction projects, we even provide support to other peoples' events! We strive to make downtown Salem a place where people can live, work, and play all year-round.
Much of this work is unseen and not particularly flashy – but it all pays off. In addition to a full calendar of community-focused events, from the Salem Arts Festival to the Howl-o-ween Pet Parade to the Salem Farmers' Market, the downtown district now boasts an incredibly low commercial vacancy rate of ONLY 2%, and 90% of our storefronts are locally-owned and operated!!! Every little dollar we can raise makes that happen, and this month we have a ton of different ways you can help.
SMS Virtual 5K, all month – we are so excited to try this for the first time! For a pledge of just $25, participants may choose to complete a 5K at their own pace, on their own schedule, and in their own way (run, jog, walk, scoot, glide, bike, horseback ride, etc.) any time during the month of August. When you prepare for, progress along, or celebrate completion of the 5K, post photos to all social media platforms and be sure to include this hashtag #SMS5k2022 — and tag us using @salemmainstreets on Facebook or Instagram; or @salemmainstreet on Twitter — so Salem Main Streets staff and everyone else can follow along with you! Sign up here – https://justgiving.com/campaign/SMS5k2022
Ice Scream Bowl, Aug. 3 – did you know that the Ice Scream Bowl is actually (not-so-secretly) a fundraiser for Salem Main Streets? That's why we're extra grateful for everyone who comes to buy a ticket, and all the ice cream vendors who donate their product and their time!
Landing at Salem Ferry Fundraiser, Aug. 10 – one of the coolest views in the city! Our friends at City Experiences have offered their very first nonprofit fundraiser night to Salem Main Streets! Swing by for a drink on your way home, on your way out, walking the dog…
American Flatbread Fundraiser, Aug. 16 – when Flatbread re-opened this summer, they immediately brought back their nonprofit fundraiser evenings. Who were we to say no? A portion of proceeds from every pizza sold that night comes back to Salem Main Streets!
Peabody Stop & Shop community bags – last but not least, someone was kind enough to nominate us for a local Stop & Shop fundraiser (thank you, whoever you are)! For this entire month of August, SMS will receive $1 from every $2.50 Community Bag sold at the Stop & Shop located at 19 Howley Street in Peabody (the one close to Harmony Grove). Reduce your impact on the environment while supporting Salem Main Streets at the same time!

Whether you can give a little or a lot, whether your taste is more for a scoop of chocolate ice cream or a glass of Merlot, August is full of ways to help make Salem Main Streets even better! And of course, you can always donate directly to Salem Main Streets by clicking the Donate button on our Facebook page – https://www.facebook.com/SalemMainStreets