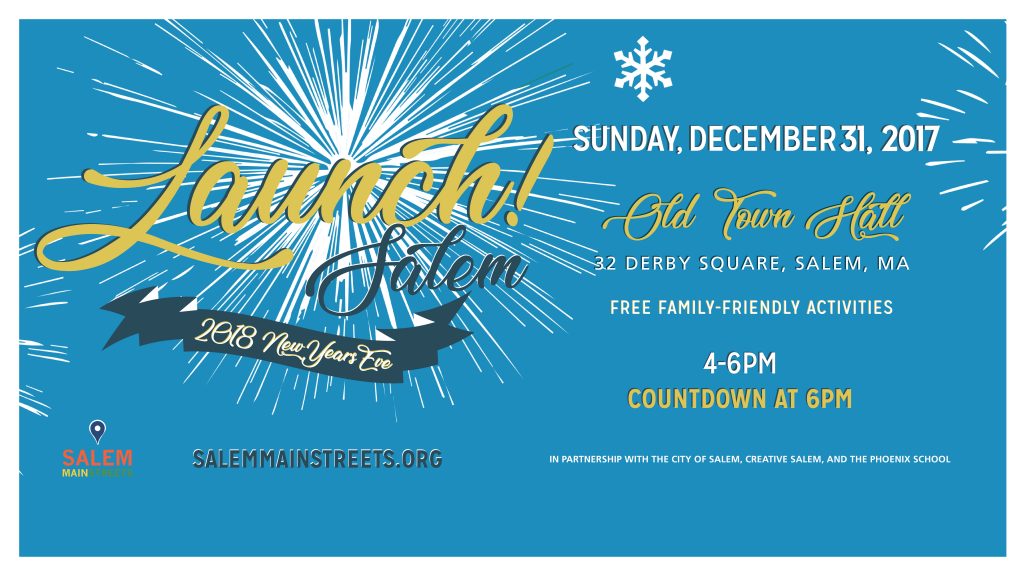 The family-friendly count down to the New Year, known as LAUNCH! is gearing up for a great party in Salem, this Sunday, Dec. 31 from 4 pm to 6 pm at Old Town Hall on Derby Square.
Programming will include hat making, face painting, a photo booth, and more! There will be an early countdown just before 6 pm. Ring in the New Year with family members that can't or don't want to stay up 'til midnight
"When we organized LAUNCH! for the first time a few years ago, it was immediately clear that there was a strong community desire to come together on New Year's Eve," states Kylie Sullivan, Salem Main Streets' Executive Director. "Plus, there's still plenty of time after our early countdown to get to your own party, or catch one of the many other great events happening all over town on New Year's Eve!"
New Year's Eve Stats
History.com and Column Five put together a very interesting "New Year's by the numbers" Infographic from which we pulled these figures.
Each New Year's Eve, one million people gather in NYC Times Square to watch the famous ball drop.
Closed to one billion people around the word watch the festivities on TV.
And 22% of adults admit they fall asleep before midnight!
No falling asleep at our New Year's alternative event, which is in its 5th year and produced again by Salem Main Streets and the City of Salem.
This event is free to all and family-friendly, with a $5 suggested donation to help support Salem Main Streets' "Holiday Happenings" initiatives, including Santa's Arrival at the Hawthorne, the Tree Lighting, and the wreaths and ribbons around the downtown district. LAUNCH! is also made possible thanks to our Salem Main Streets volunteers and the continued involvement of our partners at Creative Salem and the Phoenix School.
So, bring friends, co-workers and bring the kids to say goodbye to 2017 and hello 2018, this Sunday at Old Town Hall, 32 Derby Sq. in Salem.