Friday, October 7th:
From 3-10 p.m.,Salem residents can join Mayor Kim Driscoll for Mayor's Night Out in Salem. Residents, bring your IDs for free admittance to attractions, museums and free parking in the East India Mall garage after 4 p.m. Participating businesses will have a "Mayor's Night Out" sign on the door.
For children in Salem, trick-or-treating happens twice a year; once on October 31st and once during Trick or Treat with the Mayor. This Friday, dress the kids in their favorite costumes and meet Mayor Kim Driscoll at 5:30 p.m. at the East India Fountain. Trick-or-treating will take place at the Essex Street Pedestrian Mall shops, inside the Museum Place Mall shops and at other downtown businesses. Don't worry about finding an old pillow case to collect candy; Trick-or-Treat bags will be provided.
Saturday, October 8th & Sunday, October 9th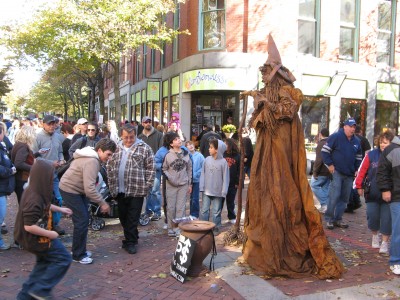 This weekend is the return of the Salem Chamber of Commerce Haunted Happenings Biz Baz Street Festival. The Essex Street Pedestrian Mall will be lined with over 100 vendors, unique street performers and other entertainment. The Biz Baz runs from 10 a.m. to 8 p.m. so head downtown for some fall fun for the whole family!
Click here for a full listing of Haunted Happenings events.