Nexus: the central and most important point or place. That would be The Peabody Essex Museum in Salem this Thursday night from 6-9pm as the monthly open late party known as PEM/PM invites you to "Immerse yourself in the world of extravagance and trade as we explore Asia in Amsterdam: The Culture of Luxury in the Golden Age." That is the current major exhibition at PEM.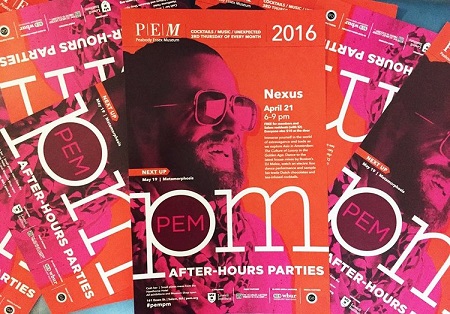 So, what do you do at a PEM/PM event? What don't you do!
Dance to the latest house mixes by Boston's DJ Melee
Create your own Delftware-inspired tile coasters
Play games that explore trade, luxury and global domination with Beverly's board game cafe The Castle
Trade business cards and networking tips with Boston's Society of Grownups
But that's not all. There will also be an incredible Balinese Gamelan performance by Gamelan Galak Tika. Plus you will have the special opportunity to sample fair-trade Dutch chocolates from Tony's Chocolonely and tea-infused cocktails with Jolie Tea Company.
PEM/PM events are always inclusive of the Salem community. You are invited to be entertained, educated and excited by what the Museum has to offer. Members and Salem residents (with ID) free, nonmembers $10 at the door.
As always, if you need a preview visual menu of the delights from which to sample, go no further – and we mean that, go no further – than Creative Salem website. John Andrews catches the spirit of the event through words and pictures for your consumption. Enjoy!
The Peabody Essex Museum is located at 161 Essex St, Salem. For more info call (978) 745-9500.