As the temperatures and leaves begin to drop, the anticipation begins to rise. October is almost here! And with it comes the 20th Annual Grand Parade to kick off the month-long Haunted Happenings celebration of all things Halloween.
Set for Oct. 1 at 6:30pm, this annual Salem Chamber of Commerce event gives children (of all ages) their chance to launch Haunted Happenings with a great kick off parade. The theme this year is World Peace, which will be reflected in costume and float designs.
When we say children of all ages, we mean exactly that. From kindergarten to high school to college age, once a parade-walker, always a parade walker. We have many Salem residents that have grown up in the annual Parade— who might even have their children now stepping off Thursday night.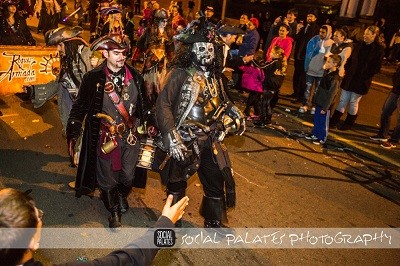 According to the Chamber "This time honored kick off of the Halloween season is full of color, pageantry, music and the enthusiasm of thousands of Salem's students … their participation is what makes this a highly successful, cherished event for our community."
The actual route snakes through enough streets that watchers have ample choices to observe: from Shetland Properties on Congress Street, the Parade procession will intersect Derby Street & turn left, then right onto Central Street, then left onto Front Street, right onto Washington Street, right onto the Essex Street Pedestrian walkway, and finally head for the conclusion at the Salem Common.
Of course, none of this would be possible without many helping hands, and the Chamber is still looking for a few more volunteers to help run this one-of-a-kind event.  Be part of the parade and part of our community!  Email info@salem-chamber.org or call 978-744-0004 if you're interested in joining us (oh, we do mean join us, we'll be there helping out).
Weather for the evening is expected to be a cool 47 degrees under partly cloudy (spooky?) skies. Good conditions for parade walking & watching!