Christmas in New England. Today a warm picture of snow outside the home with family gathered around a tree & gifts, or family gathered around the dinner table, smiling and ready for a feast of food. But 'twas not such in early Massachusetts history. And no, you can't blame the Salem witches for that.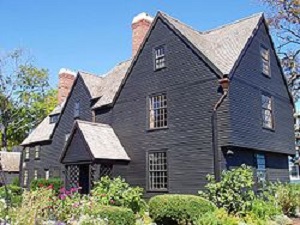 As part of the annual Christmas Tours of the Gables, this year you'll find much discussion about the fact that Christmas was banned in New England for nearly two centuries. The House of the Seven Gables is offering daily, now through Dec. 31 from 10am to 5pm, a special tour blending the unique history of the mansion with the little known history of Christmas in colonial Massachusetts.
The Puritans bristled at the day being used solely for "reveling." It was seen as sacrilegious that the day was given over to drinking, feasting and all manner of over-indulgence, instead of quiet contemplation.
Take the tour to hear the story of how the Puritans got their way outlawing Christmas in 1659 and how the holiday inched its way back into the hearts of the population so that Massachusetts officially legalized Christmas in 1856.
Explore the maritime, architectural and literary history of the house and discover Christmas' transformation from a rowdy seasonal celebration to the peaceful family-centered traditions we recognize today. The rooms of the mansion will be decorated for the holiday tour by local interior decorators, historical societies, and florists.
200 years of history in a walking tour— and you get to see the charming rooms of the House of the Seven Gables; that is a nice present to give to your family, or just yourself.
This special tour is offered during regular hours in December except during the production of A Classic Christmas. Closed Christmas Day. Open on Christmas Eve and New Years Eve, 10am-2pm. For more details on the Tour, please call 978-744-0991.