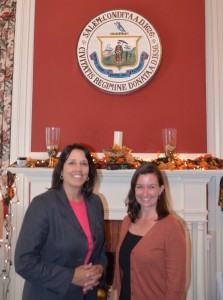 Mayor Driscoll (left) with Salem Main Streets manager Kylie Sullivan

We are pleased to introduce Kylie Sullivan as the new Salem Main Streets Manager!  Kylie started last week and has already started making the rounds to meet with downtown business owners, residents, volunteers, and town officials.

"It's great to see the full time position at Salem Main Streets filled by Kylie," said Jason Consalvo, branch manager for Salem Five. "With her background at the Mass Cultural Council we think she can bring along a wealth of information on how to improve and enhance the outdoor spaces in Salem.  Salem Five is looking forward to working with Kylie."
Kylie Sullivan comes to Salem Main Streets after six years as a grants administrator at the Massachusetts Cultural Council, the state's arts agency.  She has worked with a range of nonprofits, community organizations, and educational institutions, with a particular focus on volunteer management, program coordination, and cultural economic development.  She received an M.B.A. from Simmons School of Management and a B.A. in music from Wesleyan University.  A native of Georgetown, MA, Kylie and her husband have lived in Salem for four years.
John Boris, owner of John A. Boris & Associates who met with Kylie at a networking event, stated, "As a steering committee member I have to admit I love working with Main Streets and all of the downtown businesses, and I believe we have found the right candidate to replace Jennifer Bell, our former manager. I am looking forward to introducing Kylie to the downtown business community, and I am sure she will be well-received."
Kylie is excited to get started and will be actively soliciting community feedback regarding suggestions for the role and direction of Salem Main Streets moving forward.  She encourages anyone with ideas or recommendations to feel free to contact her directly at kylie@salemmainstreets.org or (978)744-0004 x15.