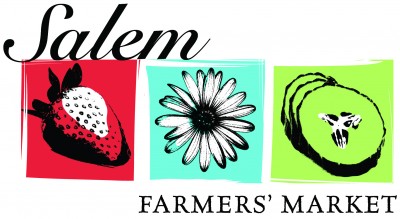 Do you grow or produce a local food item and are looking to cultivate mass community exposure? The field is open for you to participate as a vendor at the 2016 Salem Farmers' Market! Applications are being accepted now through March 11 by Salem Main Streets. This next session will operate in downtown Salem in Derby Square, Thursdays from 3-7 pm, June 9 – October 13, 2016.
Applications can be downloaded from www.salemfarmersmarket.org. Booth space is $30 a week for a 10' x 10' spot, $60 for a 10' x 20' spot, and $90 for a 10' by 30' spot. There is a discount for prepayment of the entire season.
"We are so proud of our market vendors, and we hope to see many returning, but we're also always on the look-out for the next up and coming business," said Salem Main Streets Executive Director Kylie Sullivan. "This is the perfect opportunity for both newer small businesses looking to get to the next level, as well as established businesses looking to reach a new audience."
All products must be grown or produced in New England. If a farmer is selling any items he/she did not grow, the farm of origin must be listed. Vendors may label items organic only if they are certified.
Non-farm products must be high quality, locally made, take skill and creativity, and the vendor must add at least 75% of the total value to the product. The product(s) should be complementary to a farmers' market.
Now in its eighth year, the market welcomes an average of 2,000+ customers weekly. The market is made possible through the leadership of Salem Main Streets and the Farmers' Market Committee, as well as the generous contributions of numerous volunteers.
For more information please contact Salem Main Streets Executive Director Kylie Sullivan via email at kylie@salemmainstreets.org or phone at 978-744-0004 x15. To get the latest updates about the market, visit our website at www.salemfarmersmarket.org, or follow us on Facebook (www.facebook.com/SalemMAFarmersMarket) or on Twitter (@salemfarmersmarket).