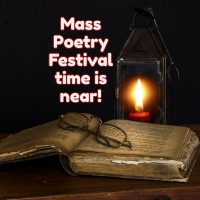 Poetry in all its forms will be on active display April 29-May 1 as the 8th annual Massachusetts Poetry Festival presents a diverse schedule of events and speakers in various Salem venues.
Among the events will be nearly 100 poetry readings and workshops, a small press and literary fair, panels, poetry slams, visual arts, and open-air performances.
Among the participants will be Sandra Beasley, Martha Collins, Mark Doty, Edward Hirsch, Marie Howe, Ada Limón, Greg Pardlo, David Rivard, Charles Simic, and Ocean Vuong.
The Mass Poetry Festival is so vast that we can't cover in one blog, so this time out, we thought to shine a light on the poetry activities set for JUST the Peabody Essex Museum. For the complete schedule go to Mass Poetry website.
US & THEM: Poets Read Original Works and New Translations
10:15-11:15 am at Studio 1, Create Space
US & THEM began with a group of translator/writer/poets who met at the Bread Loaf Translators' Conference in June 2015. This reading features New England poets presenting their original work (US) and work they have translated (THEM) and explores the effects of translation on one's own writing. Moderated by Todd Portnowitz. Speakers include Sam Bett, Maria Jose Gimenez, Pablo Medina and Lloyd Schwartz.
Writing with a Natural Poet: Workshop for Children & Parents
10:15-11:15 am at Studio 2, Create Space
When children and adults write side-by-side, something magical happens. Maybe it's because children are natural poets. Their love of word play and sound, their quick observations of the moments we adults have come to recognize as poetry give them an advantage. Children's authors Burleigh Muten and Jeannine Atkins provide unique, fast-paced writing prompts to spark your creativity. Poets ages 6 and older are welcome with an adult.
Headline Reading: Edward Hirsch
10:15-11:15 am at East India Marine Hall
Hear from a celebrated poet and peerless advocate for poetry.
Panel Discussion: Common Threads
11 am-12:15 pm at Bartlett Gallery
Join Susan Donnelly, Alan Feldman, Danielle Legros Georges, Henry Lyman and Alice Kociemba as they read and discuss the poems published in Common Threads 2016. Moderated by Alice Kociemba.
Collaborations with Chance: The Art of Dada Poetry
11 am-2 pm in the Atrium
Join multidisciplinary artist Sandra Adams for this drop-in opportunity to learn the art of Dada poetry, a practice that focuses on chance as a means to find profound meaning in the seemingly absurd. Working from a random selection of words cut out from print media, participants assemble phrases or short poems that are bound to surprise and delight.
Writing for Truth and Beauty: Using Your Photos as Poetic Inspiration
11:15 am-noon at Studio 2, Create Space
Whether they're treasured family snapshots, polished studio portraits or cell phone images, certain pictures arrest our attention and prompt an emotional response we cannot immediately express. Writing poetry from photos allows us to express the truth of what we feel and haven't said. (This session is full)
Youth Poetry: Publishing and Performance
11:30 am-12:30 pm at Studio 1, Create Space
Books of Hope lead a youth poetry workshop, open mic and feature, as well as a discussion around publishing for youth audiences. Moderated by Erich Haygun and Jayy Dod of Books of Hope, Youth Publishing. Speakers include Michael Jones, Andrinne Pierresaint, Briana Pierrette, Tyler Roze and Jahi Spaloss.
Headline Reading: Marie Howe
11:30 am-12:30 pm |at East India Marine Hall
Marie Howe is an American poet. Her most recent poetry collection is The Kingdom of Ordinary Time. In August 2012 she was named the State Poet for New York.
Group Reading: A Many Sided Reality
1-2 pm at East India Marine Hall
The poetic sequence has become a staple of contemporary poetry from its beginnings in the work of Whitman and Dickinson, Yeats and Eliot, and a great many others. Likewise, the book-length poem has found renewed purchase in the culture. This panel of four prominent poets – Christine Casson, Martha Collins, Steven Cramer and Daniel Tobin – discuss the subject and read from their work in these two important and dynamic sub-genres of the art. Moderated by Daniel Tobin.
Please note that Massachusetts Poetry Festival registration is required for events outside PEM. But, festival badges will be honored as museum admission during the festival.
And as we said at the outset, these are events JUST at Peabody Essex Museum! For more information (admission, reservations, whether full or available, etc.) on these PEM events, please call 978-745-9500. PEM is located at 161 Essex Street in downtown Salem Ma.