Explore Native cultures through sight and sound at the next PEM/PM this Thursday, February 18, from 6 to 9 pm. You are especially invited to celebrate the Peabody Essex Museum exhibition Native Fashion Now through many vehicles of creative expression, from fashion to music, art making and more.
To that end, the global musical sensation A Tribe Called Red will headline the monthly PEM/PM after-hours party with its electronic powwow and Native-inspired mash-ups. Explore cutting-edge Native street style with PEM staff strolling the runway in the latest Native designs. And try your hand at Native art making by creating your own perler bead coaster or screen print with Native artist Jared Yazzie.
Native Fashion Show
From vibrant street clothing to exquisite haute couture, this exhibition celebrates the visual range, creative expression and political nuance of Native American fashion. Nearly 100 works spanning the last 60 years explore the vitality of Native fashion designers and artists from pioneering Native style-makers to today's maverick designers making their mark in today's world of fashion.
Also examined is how non-Native designers adopt and translate traditional Native American design motifs in their own work, including Isaac Mizrahi's now iconic Totem Pole dress.
Featuring contemporary garments, accessories and footwear spanning a variety of genres and materials, these designers traverse cross-cultural boundaries between creative expressions and cultural borrowing. From one of Patricia Michaels' (Taos Pueblo) recent ensembles from the reality television series Project Runway to Jamie Okuma's (Luiseño/Shoshone-Bannock) dramatically beaded Christian Louboutin boots and innovative works made from mylar, vinyl and stainless steel, Native Fashion Now underscores Native concepts of dress and beauty, which are inextricably bound to identity and tradition in a rapidly changing world.
A Tribe Called Red
The Canadian band was named 2014 breakthrough artist of the year at the Canadian Juno awards. It has performed in clubs from Paris to Berlin and has become a cultural touchstone for Native communities with its drumbeats, chants and full-throated singing.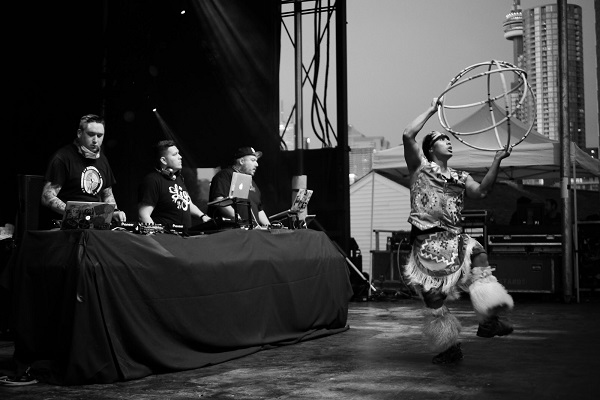 ATCR's music has been described as "the soundtrack to a contemporary evolution of the pow wow: their Electric Pow Wow events in Ottawa showcase native talent and aboriginal culture, alongside an open, wild party. Within a couple of years they've become the face of an urban Native youth renaissance, championing their heritage and speaking out on aboriginal issues, while being on top of popular music, fashion and art."
Events of the Evening
Art Making from 6-9 pm, Studio 1, Create Space
Create your own coaster with perler beads and chevron patterns, inspired by The Soft Museum.
Native Fashion Then from 6-7:30 pm , Atrium
Curious to know how Native fashion has evolved over the years? Staff from the Phillips Library share photographs and patterns from the PEM collection.
Highlights Tour at 6:45 and 7:15 pm, Native Fashion Now Exhibition, Level 3
Get an in-depth look at some of the favorites in the show from Assistant Curator Shoshanna Resnikoff.
Native Streetwear Fashion Show from 7-7:30 pm, Atrium
Check out and admire the latest designs in streetwear by Native artist Jared Yazzie.
Screen Printing Demo from 7-8 pm, Studio 2, Create Space
Join Native Fashion Now artist Jared Yazzie to make your own print of his custom artwork.
Live Music from 7:45-9 pm, Atrium
Immerse yourself in the electronic beats and mashups of Native music by Producer/DJ Crew
A Tribe Called Red
Attend and you will see why PEM's Native American and Oceanic Art and Culture Curator Karen Kramer says that we are, "smack dab in the middle of a Native fashion renaissance."
Admission is free for PEM members & Salem residents, and $10 for nonmembers. There will be a cash bar, as well as a small plates menu from the Hawthorne Hotel. For more information call 978-745-9500.