First Friday last week was a success, and the activity doesn't end for March. It is only beginning!  The 6th annual all-documentary Salem Film Fest will be held March 7 – March 14 at CinemaSalem (with a few presentations at the Peabody Essex Museum, see full list below).
This is the largest All-Documentary Festival in New England, representing 32 feature length films. And— two-thirds of filmmakers plan to not only attend but also engage in post-screening dialogues.
This year's fest kicks off at the Peabody Essex Museum with the world premiere of  THE GHOST ARMY about a top-secret WWII unit that used inflatable tanks, sound trucks and other clever tactics to impersonate U.S. Army units and deceive Hitler's legions. Q&A with Lexington filmmaker Rick Beyer and local heroes who served during WWII will follow.
The Salem Film Fest is also proud to host the much-anticipated Salem premiere of WEST OF MEMPHIS that tells the story of Salem resident Damien Echols desperate and extraordinary fight to escape death row. Echols will be on hand for what is sure to be a powerful Q&A.
Salem Film Fest was founded in 2008 by filmmaker Joe Cultrera (HAND OF GOD), local businessman Paul Van Ness (CinemaSalem, Van Ness Creative), the Executive Director of Salem Chamber of Commerce Rinus Oosthoek and others from the community. Run and operated entirely by volunteers, the weeklong festival's attendance has grown 20 to 25 percent each year.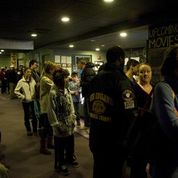 For more information about Salem Film Fest including ticket purchase information (some showings may be sold out already) visit www.salemfilmfest.com, follow Salem Film Fest on Facebook (www.facebook.com/salemfilmfest) and Twitter (@SalemFilmFest).
Screening Locations:
CinemaSalem, 1 India Square Mall, 978-744-1400
Peabody Essex Museum, East India Square (161 Essex Street), 978-745-9500
Screening Schedule:
Thursday, 3/7/13
7:00PM The Ghost Army, Peabody Essex Museum
Friday, 3/8/13
5:00PM Bay of All Saints, Screening Room, CinemaSalem
6:00PM Buzkashi!, Main Theater, CinemaSalem
6:45PM Scarlet Road, Screening Room, CinemaSalem
8:20PM Water Children, Screening Room CinemaSalem
8:30PM West of Memphis, Main Theater, CinemaSalem
10:00PM Radio Unnameable, Screening Room, CinemaSalem
Saturday, 3/9/13
10:00AM Trash Dance, Main Theater, CinemaSalem
10:30AM The Fade, Screening Room, Cinema Salem
12:00PM The Missing Piece: The Truth About The Man Who Stole The Mona Lisa, Main Theater, CinemaSalem
12:30PM Bay of All Saints, Screening Room, CinemaSalem
1:00PM In No Great Hurry – 13 Lessons in Life with Saul Leiter, Peabody Essex Museum
2:30PM Zipper: Coney Island's Last Wild Ride, Main Theater, CinemaSalem
2:30PM Scarlet Road, Screening Room, CinemaSalem
3:30PM The World's Most Fashionable Prison, Peabody Essex Museum
4:45PM Mr. Cao Goes to Washington, Main Theater, CinemaSalem
5:15PM Radio Unnameable, Screening Room, CinemaSalem
5:30PM The World Before Her, Peabody Essex Museum
7:15PM The Fade, Screening Room, CinemaSalem
7:15PM The Big Easy Express, Main Theater, CinemaSalem
7:30PM Poetry of Resilience, Peabody Essex Museum
9:15PM Welcome To The Machine, Main Theater, CinemaSalem
9:45PM Water Children, Screening Room, CinemaSalem
Sunday, 3/10/13
10:00AM Town of Runners, Main Theater, CinemaSalem
10:30AM Radio Unnameable, Screening Room, CinemaSalem
12:15PM Sneak Peek, Main Theater, CinemaSalem
12:45PM Scarlet Road, Screening Room, CinemaSalem
1:00PM Kind Hearted Woman, Peabody Essex Museum
2:30PM Charles Bradley: Soul of America, Main Theater, CinemaSalem
2:45PM The Fade, Screening Room, CinemaSalem
4:00PM FRONTLINE Forum, Peabody Essex Museum
4:45PM Dreams of a Life, Main Theater, CinemaSalem
5:00PM Water Children, Screening Room, CinemaSalem
7:15PM Bay Of All Saints, Screening Room, CinemaSalem
7:20PM Women With Cows, Main Theater, CinemaSalem
7:30PM Poetry of Resilience, Peabody Essex Museum
Monday, 3/11/13 6:00PM Seeking Asian Female, Main Theater, CinemaSalem
6:00PM
Radio Unnameable, Screening Room, CinemaSalem
8:00PM Scarlet Road, Screening Room, CinemaSalem
8:30PM Where Heaven Meets Hell, CinemaSalem
Tuesday, 3/12/13
6:00PM La Camioneta, Main Theater, CinemaSalem
6:30PM Bay Of All Saints, Screening Room, CinemaSalem
8:15PM Call Me Kuchu, Main Theater, CinemaSalem
8:15PM Water Children, Screening Room, CinemaSalem