Granted, Salem Ma is known for all things Halloween in the fall, but we are also known for putting on a pretty good summer bash in August with our Heritage Days Festival. This year it runs from Aug. 4-14th.
What makes it such a big deal along the North Shore?
Packed with more than 40 different events over ten days, the 2016 Heritage Days schedule uniquely offers opportunities for Salem residents to visit many downtown museums and attractions free of charge, as well as discounts on the Salem Ferry and tours to the Bakers Island Lighthouse.
That's a business community at work.
Salem Mayor Kimberly Driscoll agrees, "I want to thank all of the organizations involved in putting together all of these events. Our community is extremely fortunate to have so many dedicated groups helping to ensure the continuance of Salem's vibrant and fun annual Heritage Days celebration."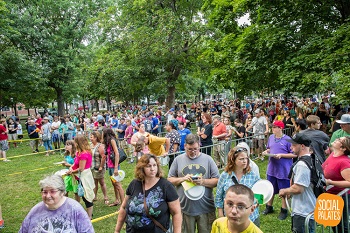 Heritage Days kicks off this year at Derby Wharf with a concert by the SqueezeBox Stompers to mark the beginning of Salem's Maritime Festival. The National Park Service is expanding the Maritime Festival to span over three days this year, filled with entertainment, special programs, children's activities, demonstrations, harbor cruises, and tours of visiting vessels.
The regular Heritage Days schedule also includes all the regular favorites, as well: Tour-A-Truck, Salem's Best Pizza Contest, the Salem Community Concert Band, the Ice Scream Bowl (one of our favorites) , Kids Night on the Common, the Essex Street Fair, and the 14th Annual Phillips House Antique Car Meet among others.
And of course what would Heritage Days be without the return of the highly popular Witches Cup Bike Race around Salem Common?
But that's not all folks!
There are seven new events added to the schedule this year. They include free performances by traditional English Morris dancers, a performance of the musical "Godspell," and Salsa on the South River. The first Salem City Hall Open House takes place on August 4. Also new is the first annual Splash & Dash competition for youngsters and, for seniors, a Charlie Card and Sheriff's Photo ID program along with the GO4LIFE event and a lecture by Jim McAllister.
You can go to the shore or the Islands or the Cape anytime. But you can only enjoy the fun, food and friends of the Heritage Days Festival in Salem Ma from Aug. 4-14th. Mark your calendar. Set aside some sun tan and a hat. And, oh yes, bring comfortable walking shoes.