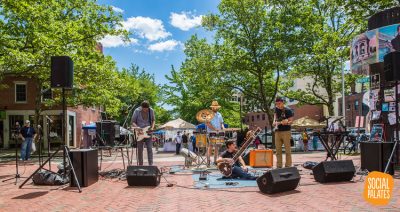 As Arts Festivals go, we think ours is a big deal. So much so that the Salem Arts Festival is not a one day experience but a 3-day extravaganza of culture, June 3-5th. What else would you call the intersection of over 80 artists and performers with a variety of art, music, dance, and theatre performances. The family-friendly festival also includes art-making for all ages, artisan vendors selling their creations, and a temporary public art installation.
And yes, something this big can't be housed in one spot.
The Salem Arts Festival is spread out at a variety of venues in downtown Salem, with the primary focus on Old Town Hall, Derby Square, Front Street, and Artists' Row. A Juried Art Show will be held in Old Town Hall throughout the festival, with an artisan street fair in the area around the building on Saturday and Sunday. Live performances this year will mostly be held outside (weather permitting) on Derby Square and Artists' Row. The event is rain or shine, with a rain location for performances held upstairs at Old Town Hall and at 217 Essex Street (formerly "The Gathering").
Full schedule and programs will be available on site during the festival, as well as the Festival website.
"I'm probably prouder of this event than any other Salem Main Streets initiative, because there's been such tremendous collaboration between so many local groups and individuals to continue to improve and expand the festival every year.  I can't wait to share the phenomenal energy and talent that will be on display this year," says Kylie Sullivan, Executive Director of Salem Main Streets (SMS), the community non-profit organization which started the Festival.
The Salem Arts Festival kicks off with an opening reception at Salem's Old Town Hall on Friday, June 3rd at 6pm.  The free event allows visitors to enjoy beautiful art work while being entertained by renowned local and regional performers North Shore Chamber Music, Gretchen and the Pickpockets, Siren of the Circle, and headliners Picante Soul.
In addition this year, Friday night will also serve as the grant reception for the Salem Cultural Council's FY16 grantees.
One of the most anticipated events this year is "Move With Me", a collaborative public art project led by artist and architect Claudia Paraschiv, featuring an installation of pinwheels over Front Street. During the past few months, community groups and locals of all ages and abilities have decorated several hundred individual pinwheels made of reclaimed sailcloth, drawing their own interpretations of traditional textile patterns from different cultures around the world.
This year, the Salem Arts Festival also celebrates the very first "Mural Slam" on Artists' Row, organized by the City of Salem's Public Art Commission and Public Art Planner Deborah Greel. Murals will be painted throughout the weekend by 12 selected artists and will be completed by the end of the festival. In addition, the Festival marks the return of vendors to Artists' Row, with both new and returning tenants for the 2016 season.
The goal of the Salem Arts Festival is to promote all the arts in Salem and to provide the entire North Shore arts community with an opportunity to showcase their talents. The Festival is run in collaboration with Salem Main Streets by a team of dedicated volunteers, including representatives from Creative Salem, Salem State University, the Peabody Essex Museum, and many more.
Visitors interested in attending the Salem Arts Festival can find easy access to the downtown by public transportation or parking at one of the many downtown lots in the City. For more information, please visit www.salemartsfestival.com