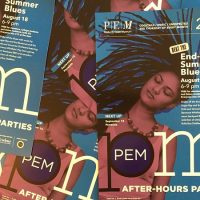 Summer is almost over. Fun stuff done. No need to visit Salem until October. Right? WRONG!!! Here are just three things set for the next few days.
Farmers' Market
Our successfully diverse Farmers' Market continues its 2017 run (every Thursday now through Oct 12) with a host of regular vendors and a rotating batch as well.
For 8/17/17 come check out:
Cauldron Fermented Foods
Pour Man's Coffee
1634 Meadery
Bare Cheek Beauty
Who is providing entertainment this week? From 5-7pm, Radio Scotvoid will be spinning vinyl jams. So, bring your dancing shoes. Or just a chair to set a spell and tap your toes!
Also, as an FYI… The Salem Farmers' Market accepts the SNAP/EBT card. Just head for the Farmers' Market table, located off Front St, on the Lobster Shanty side, and ask for the Market Manager. Use your SNAP/EBT card to "purchase" $1, $2, and $5 tokens. For more info on this program, go to http://salemfarmersmarket.org/ebt-info/
Salem Farmers' Market operates Thursdays from 3-7pm in Derby Sq.
End of Summer Blues at PEM/PM
Does the thought of days getting shorter and darker earlier, and temperatures dipping bring out the end of summer blues in you? Put aside your trepidations. The Peabody Essex Museum has a festive alternative. This month's PEM/PM late night party (also on 8/17/17) from 6-9pm will indeed be a party.
Enjoy local blues bands, lawn games and backyard BBQ food while enjoying a selection of beer. Be a part of the music with instrument making and blue jean art workshops to end the summer with a bash.
All that at a Museum? Yes, if it is the world-famous Peabody Essex Museum, located at East India Square, 161 Essex Street, Salem, MA. For more info on this month's PEM/PM event, please call 978-745-9500.
The Salem Flea
Regional and local artisans/vendors will again be on hand from 10am-5pm on Aug. 19  to showcase and sell their work this third Saturday of the month as they have all season (May-September) in historic downtown Salem at Derby Square on Front Street. This area of the city was originally built as a market place and continues to be an important public plaza and pedestrian walkway.
The Salem Flea features a juried selection of vendors of vintage and up-cycled furniture, vintage clothing, collectibles, antiques, architectural salvage as well as a select number of jewelry, art, and handmade goods by local artisans.
Just three events with more than enough activity to keep you busy as the days of summer gently breeze away.