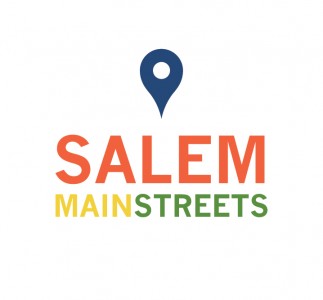 Salem Main Streets is pleased to announce a new brand and look! The local nonprofit, focused on the continued revitalization of downtown Salem, is updating its previous black and white logo of a building for a more modern, bold, and colorful vibrant look.
"When Salem Main Streets was first established in 2001, it was based on a traditional Main Streets model of historic preservation, so the building in our old logo made good sense," says Kylie Sullivan, Executive Director of Salem Main Streets. "Salem Main Streets has evolved significantly since then. The current model is more dynamic, is more people-focused than building-focused, and, most importantly, is about creating a sense of place and identity. We needed a flexible new look to reflect that change."
The logo and brand extension was created by local designer Elissa Von Letkemann. "Working with the Salem Main Streets staff and committee members on this was a fun challenge. The experience of being in downtown Salem is different for everyone, so the new logo had to communicate and support a sense of place while not focusing too heavily on any one aspect such as landmarks, restaurants, or otherwise." Von Letkemann explains that the friendly, positive colors are meant as a nod to the culinary, historical, arts, and commercial destinations in town, while the map locator icon works double-duty as an exclamation point.  Salem Main Streets' materials and websites will be transitioning to the new brand over the next few days.
Salem Main Streets' mission is the revitalization of downtown Salem as a vibrant, year-round, retail, dining, and cultural destination through business retention, recruitment, and the promotion of the downtown district.  SMS produces and supports multiple community events and initiatives throughout the year, including the Salem Farmers' Market, Salem Arts Festival, Salem's So Sweet, and the October Information Booth. SMS operates thanks to the generosity and partnership of the City of Salem, the Salem Chamber of Commerce, Destination Salem, and many other local business sponsors and community volunteers.
The Salem Main Street Initiative is a preservation-based, volunteer driven strategy for commercial district revitalization. The Initiative is modeled on the National Trust for Historic Preservation's National Main Street Program. Main Streets works because it involves all interested stakeholders in the downtown and provides a comprehensive strategy of work, tailored to local needs and opportunities of the community.