Community is a key element both on-stage and off in the current production of William Shakespeare's Twelfth Night  by the Salem Theatre. Running now through April 12th, it is a story of a community upended by a shipwreck and how those involved take to comedy and music to solve their dilemmas. And as a city almost entirely surrounded by the sea, Salem provides extra backdrop. But the Salem Theatre is also providing a community initiative: for every sold out performance (as last Saturday's was) it will provide a performance to a local school, free of charge.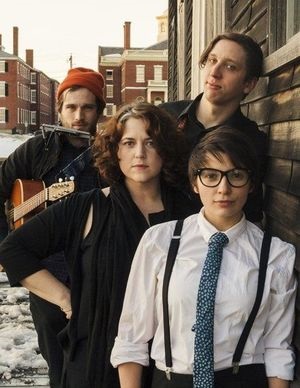 Who says Shakespeare can't be relevant in the 21st century?
If you are not familiar with the play, it focuses on the hilarious and wild chaos caused by twins, Viola and Sebastian, displaced by the shipwreck. Salem Theatre's production is directed by Artistic Director Matthew Gray who has stated that while parts of songs are used in many of Shakespeare's other plays, those in Twelfth Night  are sung in their entirety, thus contributing to the story.
The set is sparse, a few benches, a few props, a piano. There is sadness, comedy, and Shakespearean characters defined by their circumstances, all confined to a space that might seem like the hull of a 17th century ship.
Cast members include Salem residents and returning to the Salem Theatre stage Caroline Watson-Felt, Chris Martel and Ariane Grosse; members of Salem's classical theatre troupe, Upstart Crows Diana Dunlap and Keith Trickett; and Rachel MacAskill, Zachary Reardon, Francis Norton and Christopher Noran.
Performances are on Thursdays, Fridays and Saturdays at 7:30 pm, and Saturdays and Sundays at 3 pm. Key dates to note:
Thursday, April 2: Student Night – $5 tickets available for all students
Thursday, April 9: LGTB Night – Discount Tickets offered.
Salem Theatre will also update daily the seating capacity for each show; if you want to see Twelfth Night and are open on the date, you might consider booking a near sell-out night to help activate the community initiative for school children.
Additional details are available at www.salemtheatre.com. Performances are held at 90 Lafayette Street.
(Photo courtesy CMB Photography)