We're bringing the monthly Business Spotlight back!  Every month, Salem Main Streets will highlight a business in downtown Salem that might be relatively unknown, off-the-beaten path, misunderstood, or just plain cool. This month, we took a trip with our partner Creative Salem to answer a long-wondered question – what exactly IS a waterbar? Thank you to Creative Salem for the amazing photo-documentation – you can see their glossier version of this article here.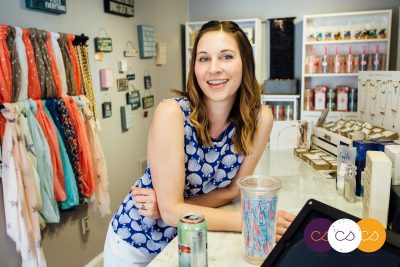 What: Ocean Chic Boutique & Waterbar
Where: 96 Wharf Street, Salem, MA
Owner: Erica Kirwan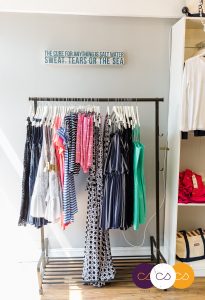 When you step into Ocean Chic, it's hard not feel like you've stepped into a mini-vacation. You stand a little looser, breathe a little deeper, and slow down a bit more.  And that's no accident – owner Erica Kirwan has worked hard to make sure her own "little slice of heaven" on Pickering Wharf inspires a sense of positivity and relaxation. Celebrating its two year anniversary this week, many people are still discovering what makes Ocean Chic so special.
After a life in the corporate world helping other entrepreneurs make their dreams come true, Erica Kirwan was ready to slow down and make something that was distinctly her own.  From the beachy, bo-ho feel to the inspirational jewelry and art found around the store, the whole store reflects "all of my favorite things," says Kirwan.  The city of Salem itself was also important in creating Ocean Chic, as a maritime community with a positive energy of its own that just felt right. Kirwan adds, "If I hadn't found Salem, Ocean Chic wouldn't exist."
Kirwan defines her boutique as having "big brands you know, and local ones you're going to love" – and it's absolutely true.  Ocean Chic is the only boutique in town to carry some of the big-name brands common to high-end seaside communities, including Vineyard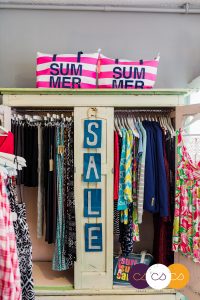 Vines and Lilly Pulitzer, but also carries smaller local brands as well as unique brands from the West Coast. The boutique is also one of the only places in town to buy bathing suits and other beach wear. Not sure what works for you, or planning a new vacation wardrobe? Ocean Chic also offers personal styling services, which also make for a great gift if you're not sure what someone on your list might like.
But we all know that shopping can be a thirsty business! The waterbar at Ocean Chic is designed to refresh as well as being yet another way of encouraging shoppers to slow down and enjoy their time. After weaning herself away from the extreme amounts of coffee in her corporate life, Kirwan herself discovered how much there is to water.  From maple water to boxed water to coconut water lattes (for those who still need their caffeine!), there's always something new to sit and sip at Ocean Chic.  Not sure if you're going to like something? Consider asking for a flight!
Ocean Chic is open 7 days a week (sometimes less during the winter), online 24/7/365 at www.shopoceanchic.com, and on social media via Facebook and Instagram. You can also join Ocean Chic on celebrating its second birthday this Thursday evening, 5 pm to 8 pm!