"Salem would be a very different community without an asset like the Hawthorne," responds Kylie Sullivan, Executive Director, Salem Main Streets when asked to describe the Hawthorne Hotel in 25 words or less. No doubt those words & feelings will be echoed a lot this Thursday evening when the Hotel celebrates 90 years of service with a party overflowing with live ragtime music (it was after all built in 1925) in the Grand Ballroom, professional dancers in period dress, free hors d'oeurves, raffle items, and more.
The public had been invited; reservations went quickly. It is sold out. But there is still a way to attend, which we will get to later.
In a Creative Salem post, Alyssa Grace AlKhowaiter for the Salem Historical Society recounted the history of the Hawthorne quite succinctly:
In 1923, Hygrade/Sylvania Lighting Company founder Frank Poor decided that Salem needed a high-end hotel to accommodate visiting businessmen. With support from the Salem Rotary Club and the Salem Chamber of Commerce, Poor helped create the Salem Hotel Company to sell stock in the creation of a new hotel. 230 volunteers recruited by the Company sold $750,000 in stock to over a thousand area residents and businessmen, while daily sales were posted on a billboard in Town House Square. A celebratory parade was held in Salem on July 21, 1925, and on July 23rd, the Hawthorne Hotel opened for business.
And the Hotel has never forgotten where it came from: the neighborhoods and people of Salem.
Kylie Sullivan points out, "The really phenomenal thing about the Hawthorne is that it's more than just a hotel; it's not just offering a service for our visitors. It's an integral part of our community for local businesses and residents. It's where we host fundraisers, celebrations, and board meetings. We hang around outside hoping to catch a glimpse of a new bride and groom, or check out the incredible costumes for the Halloween ball, or wait for Santa to descend from the roof. It's always the first to offer a donation for an event, or a space for a festival, or a discount for locals during a snow emergency."
In fact, a portion of the proceeds of the evening will go to benefit the Salem Education Foundation (limited edition commemorative items will be available for purchase, a cash bar will be on hand, and of course donations would be appreciated).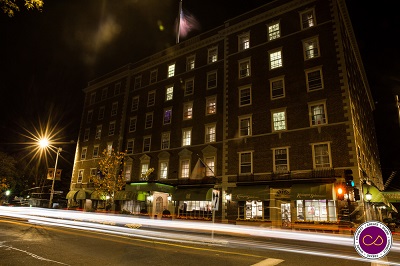 As for how you can see the festivities, no matter whether you are in the USA, Europe or anywhere else in the world, we are going to do another Periscope live streaming broadcast. Simply sign up for the free Periscope app for Android or iOS devices and follow @SalemAMB on Twitter for the automatic notification of the camera going live.
Otherwise, after the streaming ends, we will upload the URL to both the @SalemAMB and @SalemMainStreet Twitter accounts so you can watch it on any device connected to the Internet. (It will be available for 24 hours.)
Send your personal congratulations to the Hawthorne's Facebook and Twitter accounts.
Happy Birthday Hawthorne Hotel. And, many, many more!
(Pictures courtesy of John Andrews of Social Palates Photography)