In the midst of the mayhem & madness that swirls around Salem in October for Haunted Happenings, there will be an homage to Salem's other historical claim to fame— seafaring adventures as the National Park Service will present a free outdoor showing of Master and Commander: The Far Side of the World  Oct. 3rd at 7pm on Derby Wharf.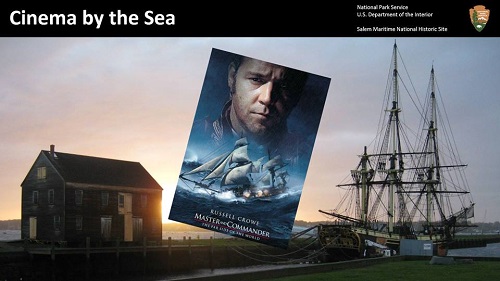 The stage for the film is the vast ocean. The adventure is high. And the film will be projected on the exterior of the historic Pedrick Store House!
Noted film reviewer Roger Ebert wrote "Peter Weir's Master and Commander: The Far Side of the World is an exuberant sea adventure told with uncommon intelligence; we're reminded of well-crafted classics before the soulless age of computerized action. Based on the beloved novels of Patrick O'Brian, it re-creates the world of the British navy circa 1805 with such detail and intensity that the sea battles become stages for personality and character."
Ebert went on to say "The film centers on the spirits of two men, Capt. Jack Aubrey [Russell Crowe] and ship's surgeon Stephen Maturin [Paul Bettany]. Readers of O'Brian's 20 novels know them as friends and opposites — Aubrey, the realist, the man of action; Maturin, more intellectual and pensive."
Here is a taste of the film from the 2003 trailer

And what about our own resident-in-harbor tall ship? The Friendship of Salem, will also be open for special evening hours from 5-6:30pm, just to help you get into the maritime mood.
As this is an outside, free event, definitely bring lawn chairs, blankets, and snacks— but NO alcoholic beverages allowed.
Be there a rainstorm or a squall? Then the film will hoist anchor and be shown in the NPS auditorium at 2 New Liberty Street, Salem. For more info call the Visitor Center at 978-740-1650.
There is one other thing to take note of, the last line on the NPS Cinema by the Sea Facebook page "Visit us on this very special evening to find out how Salem and Master and Commander are linked!"
Sea-faring action. Complex character studies. Free admission. And a mystery. Who could ask for more on a Saturday night in Salem?