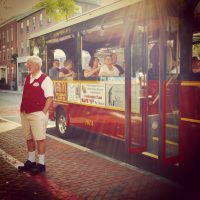 We're wrapping up our spotlight on the Essex Street Pedestrian Mall businesses today, and we have learned SO MUCH! For Round 2, we featured Tibet Arts and Healing, The Magic Parlor, The Peabody Essex Museum, The Coven's Cottage, Flying Monkey, Coon's Cards and Gift Shop and Penelope's Pet Boutique, the Witch History Museum, Fountain Place Restaurant, Witch Tee's, History Alive's Cry Innocent, Angelica of the Angels, Witch City Ink, Witch Pix, and the Salem Trolley.
Over the past 10 days, we managed to highlight 28 storefront businesses currently operating on Pedestrian Mall – that's still only 84%! Shout outs must go to Cabot Wealth Management, Dragonfly, For Kids Only Afterschool, Mass Bay Dental, and the Witch Mansion; the only locally-owned storefronts we didn't manage to capture with an image that we thought did them justice. Not to mention the businesses in the Museum Place Mall that don't externally face the Pedestrian Mall (your time will come!), or all the tour companies that operate on the Pedestrian Mall, or the second floor businesses, or Salem Five's multiple offices , or all the offices surrounding Old Town Hall, or….PHEW! The moral of the story is that the Pedestrian Mall is more than open for business.
See everything we hit in Round 1 here. Have we missed your favorite "best kept secret" on the Pedestrian Mall? Let us know!
Here's what we've learned during Round 2 of our #pedmallspotlight: