Not only is Salem an entertaining daytrip destination, it also offers opportunities to further your own education. On any given weekend there are events that perform a double duty! Take these gatherings in July as an invitation.
Seventeenth Century Saturdays at Historic New England's Gedney House
Salem shipwright Eleazer Gedney built the earliest portion of the Gedney House back in 1665! Follow-up and historically significant renovations to the structure in 1712 and 1800 resulted in dramatic changes to the house's appearance.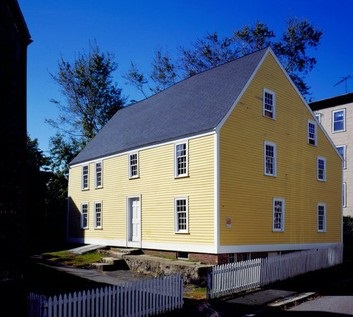 When you visit the Gedney House during this month's edition of Seventeenth Century Saturdays (July 11) and take the tours, you'll see why it is not your typical historic house. You will gain insights & be directed to look more closely at the original post-and-beam timbers, brick nogging, and early decorative finishes in Salem's second oldest historic house.
The Gedney House is located at 21 High Street, Salem, Mass.
The house is significant not only for its framing, but also for its evidence of early decorative finishes in the hall chamber and parlor. It has had three successive color schemes, the earliest of which is believed to date to the house's construction.
In 1967, Historic New England acquired the house as it was being prepared for demolition. Historic New England is the oldest, largest, and most comprehensive regional heritage organization in the nation. It endeavors to bring history to life while preserving the past for everyone interested in exploring the authentic New England experience from the seventeenth century to today.
The museum will be open from 11am – 3pm with tours available on the hour. The last tour leaves at 3pm. Space on tours is limited due to the structure of the Gedney House. The fee is $5 for the general public and free for Salem residents and Historic New England members.
For more details call 978-744-0440 or visit www.historicnewengland.org .
PEM Lecture Series Provides Behind-The-Scenes Look at Historic Ropes Mansion
The Peabody Essex Museum (PEM) presents a special 3-part lecture series on the Ropes Mansion this month which offers unique opportunities to gain a deeper understanding of the historic house and the family that called it home. The "One House, Many Stories" series offers an inside look at rarely seen areas of the 18th-century house, a behind-the-scenes glimpse of the hobbies enjoyed by the Ropes family and a greater understanding of the culinary tastes of the day.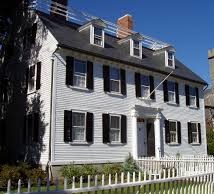 Built in (or close to) 1727 and listed on the National Register of Historic Places, the Ropes Mansion was home to four generations of the Ropes family and is recognized as one of New England's most significant and thoroughly documented historic houses. Filled with original furnishings, the house contains superb examples of 18th- and 19th-century furniture, ceramics and glass, silver, kitchenwares, textiles and personal objects.
The Ropes Mansion is located at 318 Essex Street, Salem Mass.
Each lecture session is led by curatorial staff from PEM or Historic New England and is followed by a free drop-in art-making activity from noon to 2pm in the Ropes Mansion Garden, which is open to the public. Cold lemonade will be served and gardener Robin Pydynkowski will be on hand to answer questions. All garden activities are weather permitting.
The current information we have is that the July 11th lecture "Behind-the-Scenes Architecture Tour" is sold out, but if you are really interested, give PEM a call, you never know when there is a cancellation.
(Dean Lahikainen, PEM's Carolyn and Peter Lynch Curator of American Decorative Art, is scheduled to speak about the extensive renovation work completed at the historic house through the years. Guests are to be escorted to areas rarely open to the public. From noon – 2pm attendees can enjoy drop-in design activities in the garden.)
The 2nd lecture takes place on July 18th: "Pastimes and Pursuits." Paula Richter, PEM's curator for exhibitions and research, will explore the many interests of the family members. These included botany, sewing and needlework, books and literature, travel, collecting art and interesting objects, social activities and more. From noon – 2pm botanical illustrator and author Doreen Bolnick will lead drop-in sketching and watercolor painting in the garden.
The 3rd lecture is set for July 25th: "Kitchens and Cooking." Nancy Carlisle, senior curator of collections at Historic New England and author of America's Kitchens, will discuss the history of the kitchen from the early 18th century to the present. Then visitors will spend some time in the Ropes kitchen to examine how it reflects the standards of the day. From noon – 2pm you can sample a treat in the garden that was typically served during the 19th century. Tasting created by chef Rhiannon Nowak of the Hawthorne Hotel.
Tickets are $12 for members, $15 for nonmembers (per session). Reservations required, please call 978-542-1511 or go to pem.org/calendar.
Summer Salon Series at Salem Athenæum: Informal and Informational
Return to the back porch for the Salem Athenæum's Summer Salons–informal and informational gatherings on Friday evenings at 5:30pm in July and August. Each week will feature a discussion or presentation by members and friends of the Athenæum. The conversations will be diverse–past salon topics have included travel, writing, beekeeping, Spanish pilgrimages, and astrophysics.
The concept of the salon emerged in 17th-century France and quickly became popular throughout Europe. These gatherings of like-minded people were meant to refine tastes and knowledge through the exchange of talents, news, and ideas. (And, we are advised, more than a few were rife with irony, romance, and black humor!)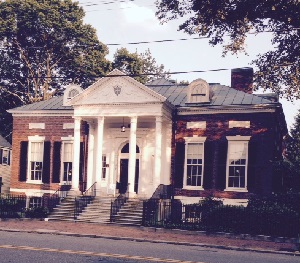 July 10, Joe McGuire: "Birding Stories, Tips and Tools"
A lifelong birder and nature lover, Joe's presentation will include bird-watching tips (including information about phone apps and online alerts), fun facts, and stories from his bird watching excursions in all kinds of weather. This is aimed at the amateur nature lover.
July 17, Price Grisham: "Serious Subjects"
In May, independent Jane Austen scholar, Price Grisham, participated in a symposium on religion and literature at Chawton House Library in Chawton, Hampshire, England, where Jane Austen lived the last eight years of her life. Price will speak about his experience at Chawton House and the paper he presented: "Serious Subjects": Jane Austen's Barometric Readings of the Georgian Church.
July 24, Lynn Murray: 'Travels in Patagonia"
The natural wonders of Patagonia including Cape Horn, glaciers, volcanoes, penguins and more will be brought to life through photos and discussion. This region is part of both Chile and Argentina and is located just 600 miles from Antarctica.  Visits to Buenos Aires, Santiago, and Valparaiso will also be highlighted.
July 31, Norman Gaudrault: "Two Years in America: The Discoveries of a French Family"
Norman became an author after his career as a pediatrician, when he and long-time friend Georges Idier collaborated and wrote Two Years in America. Norman and Georges met in Tunisia in 1965 while Norman was volunteering with the Peace Corps. Over the years, they stayed in touch. More human and sensitive than a tourist guide, more vibrant than a simple cultural report, their novel explores the experience of a French family spending 2 years in the United States.
Do your part to keep cultural discourse alive and well in the twenty-first century!
No tickets or reservations are required.
For more information about this series, see www.salemathenaeum.net or contact Jean Marie Procious at 978-744-2540 or info@salemathenaeum.net.
Come for the entertainment, stay for the information.