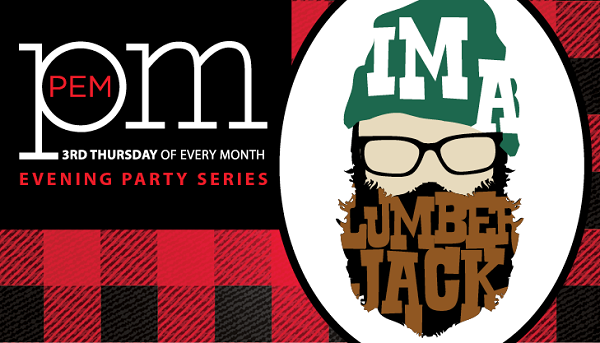 Could they have planned it any better than this? In the midst of one of the most outrageous winter snow seasons we've ever seen, the think-tank at the Peabody Essex Museum has scheduled a Lumberjack Party as the theme for this Thursday's PEM/PM event! This should bring people out of the woodwork (sorry, had to get one pun in there).
Seriously though, the vision is to create an experience of spending a winter night in the North Woods (something we are all feeling) while celebrating the art of trees. And that is inspired by PEM's Art & Nature Center exhibition "Branching Out: Trees as Art."
PEM urges you to dig deep to get into the spirit of the event: wear your boots and flannel, then get your photo taken in their Lumberjack Photobooth, complete with beards, axes and other woodsy-themed accessories.
Other highlights of the event include obviously woodworking demonstrations, a Brew Talk with Salem's From the Tree Cider, and more "timber" related activities; local bearded band, Tigerman WOAH, will provide the perfect backdrop with their Appalachian mountain folk/bluegrass-influenced punk rock with the occasional hip-hop freak-out.
PEM/PM evening parties take place on the 3rd Thursday of each month as a way for PEM to invite, entertain, educate and interact with the local community.
In this case, the current exhibition, "Branching Out: Trees as Art," explores ways in which contemporary artists use trees as an inspiration as well as a medium for their art. Made with bark, wood, roots, seedpods, leaves and biosignals, more than 30 varied works and a selection of hands-on interactive opportunities ask us to consider our relationship with trees as a vital natural force.
A cash bar will be available, as will a special small plate menu courtesy of the Hawthorne Hotel. Admission to PEM/PM: free of charge for members and Salem residents (bring ID); $10 for non members. The event runs from 6 – 9 pm on Feb. 19 at the Peabody Essex Museum. For more details go to www.pem.org  or call 866-745-1876.