For the sake of argument, let's say that neither Black Friday, nor Small Business Saturday nor
Cyber Monday were sufficient enough to meet your shopping needs for the holidays, birthdays and anniversaries that fall in December. What else can you do?. How about a visit or two to Salem during our Festive Fridays celebration, which begins Dec. 2nd.
Explains Kylie Sullivan, Salem Main Streets executive director, "Salem Main Streets knows how it is. You WANT to shop local, but you get home from work too late in the evenings and you're simply too busy on the weekends. That's why Salem Main Streets is encouraging downtown retailers to stay open late every Friday this December leading up to Christmas and Hanukkah to help you with your holiday shopping!"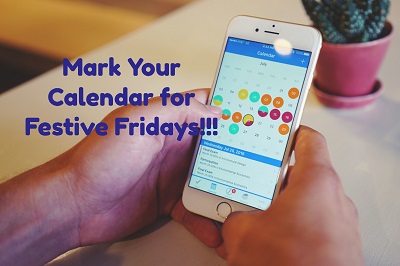 Which stores will be open during Festive Fridays? Glad you asked that.
Each week on Facebook, we'll post a list of businesses who have committed to staying open until at least 8 pm, as well as announcing any great deals or special treats that you can look forward to.
As an extra incentive for you to shop & participate, Kylie adds, "If you post a #selfiewithashopkeeper any Friday evening in December on Facebook or Instagram, you could win a prize from a local business!"
So, after a long Friday to end a long work week, do you want to then drive to the mall, find a parking spot, walk across the parking lot to enter a packed mall only to be jostled by other tired, unhappy shoppers unable to find that unique gift for aunt Ellen, cousin Eddie or the boss?
Or do you want to stroll along our walkable streets to sample from an eclectic bunch of stores that are staying open later because they genuinely want your business and that of anyone you recommend their products or services to?
For additional information relating to any of these events, please contact Kylie Sullivan, Salem Main Streets Executive Director, at (978)744-0004 or kylie@salemmainstreets.org, or visit http://salemmainstreets.org/festivals/holiday-happenings/salem-festive-fridays/ and follow Salem Main Streets on Facebook and Twitter.