Interactive theatre is the calling card of History Alive, Inc. productions, most notably Cry Innocent which you may have seen during Halloween in Salem, but also with a relatively newer production called Goodnight, Captain White. This comedy murder mystery will have its final performances of the winter season Nov. 18-20 at the historical Hawthorne Hotel.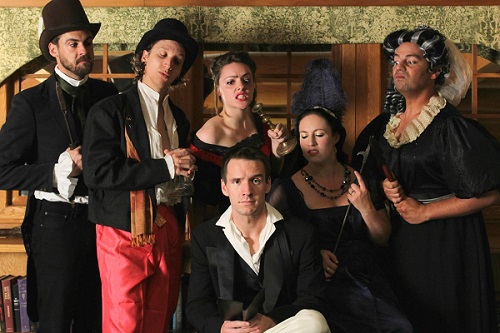 It's 1830. "All friends and well wishers are invited to attend" the retirement party of Captain Joseph White's favorite ship, the Caroline. But this magnanimous invitation lures a host of enemies and ill-wishers into the perfect opportunity to murder the rich, old captain.  Allegiances twist and turn. Foibles are exposed, depravities revealed.
Then it is up to the audience (that means YOU) and an under cover Daniel Webster to figure out who-dunnit and how. The creators of Cry Innocent give Salem— as odd as this sounds, but you have to be there— a crime to laugh about.
Those who love Salem history and also a good laugh will have this one more weekend to take in Goodnight, Captain White before History Alive, Inc. puts the play to bed for a long winter's nap.
That's correct. We said history. This tale is based upon the real-life murder of Capt. Joseph White, a 19th century shipmaster and trader from Salem, MA,
Performances of the interactive who-dunit will be in the library of the historic Hawthorne Hotel, November 18th, 19th and 20th . Shows are at 7:30pm on Friday and Saturday and 5:30pm on Sunday.
"We've had so much fun with a great, sold-out run this year, including a fund raiser for the Saltonstall School's play ground and an immersive weekend at the gorgeous Jeremiah Lee Mansion in Marblehead," Kristina Wacome Stevick, History Alive, Inc's artistic director reflected. "But we're developing a new piece, a world premier, and we want to turn our attention there for the winter."
But what would hibernation be without a big meal beforehand? Therefore, from this late November run, $10 from each ticket will be donated to the Salem Pantry, which serves Salem's children who struggle with food insecurity.
The November shows of Goodnight, Captain White will also feature a new performer in the ensemble, improv. comedian Zach Reynolds from Portsmouth, NH.
"Preparing for Captain White has been a high-energy, collaborative process," he explains. "The whole cast is hilarious, and with Sarah Mann's direction we've been able to make the ingenious script come to life in surprising and side-splitting ways. I've loved getting to know my character, Frank, and discovering how such an apparently dimwitted guy can have a duplicitous, conniving dark side."
The play will resurface once in late June as part of Cry Innocent's 25th anniversary celebration, a festival which will highlight the spin-off projects and new work forged by Cry Innocent ensemble members past and present. It will then travel to Edinburgh, Scotland and the South Shore where there are additional historical connections to the story.
Tickets for the shows of Goodnight, Captain White, by Mark Stevick can be purchased at goodnightcaptainwhitehh.bpt.me.