What exactly are you planning to do with last year's costumes? Will you arrive again at cousin Jerry's party as Bigfoot? And what about little Jack & Jill? Maybe they've outgrown "Toy Story." If you're like most people, as much as you don't want to, you will end up tossing the costumes into the trash and buying new ones. But there is an economic and ecological alternative: swapping costumes. And you can do it Thursday, Friday and Saturday of this week, right here in Salem.
The City of Salem Recreation Department will be accepting costumes for its 2nd Annual Salem Costume Swap at the Salem Senior Center. You may drop off gently used adult, kid or pet costumes Thursday from 8am to 7pm and Friday from 8am to 4pm. They will also accept Halloween accessories.
In return, you will receive one swap ticket to claim a new-to-you costume at the actual Salem Costume Swap on Saturday, October 12th at the Boys & Girls Club of Greater Salem, 13 Hawthorrne Blvd.
No costume to swap? Still want to shop? No Problem! Stop by the Salem Boys & Girls Club that day from 10am to 1pm to purchase any costume for $5. Proceeds will benefit Salem youth programs.
Green Halloween®, a non-prof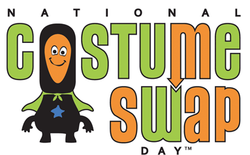 it community initiative set up to create healthier and more sustainable holidays, began sponsoring National Costume Swap Day in October 2010. In partnership with Kiwi Magazine and Swap.com, parents, young adults and kids across America can come together to swap out once-used Halloween costumes and walk away with something new.
According to their website "Swapping half the costumes kids wear at Halloween would reduce annual landfill waste by 6500 tons, equal to the weight of 2500 midsize cars."
So, make it an eeek-ological and eeek-onomic Halloween.