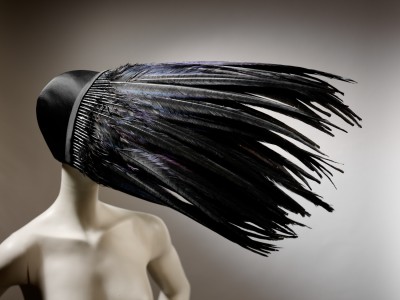 Some people love to wear hats some people don't and then there are the many baseball cap wearers. If you loved viewing the hats at the Royal Wedding or are just hooked on fashion this is a don't miss event for you. Starting Saturday, September 8 the Peabody Essex Museum has over 250 hats on display for your viewing pleasure. The exhibit will be open through February 3rd.
There are hats that were worn by royalty and hats worn by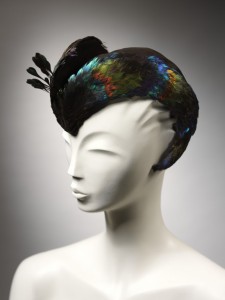 hollywood  stars, hats for mourning, traditional hats with a modern twist, felt hats, straw hats and feather hats. From a pompom hat worn by Bjork to the famous green rose and butterfly hat worn by Sarah Jessica Parker there are many hats which only the most fashion forward could wear. Of course, there are hats for sale in the PEM gift shop and several other shops Downtown Salem if this exhibit inspires you to buy a hat.
(Photo of mourning hat – Jo Gordon, Kiss of Death, 1994 Copyright Victoria and Albert Museum, London. Photo of feather hat – Caroline Reboux, Feather tricorne, about 1935, Copyright Victoria and Albert Museum, London.)