Salem is going to the dogs, and we couldn't be happier about it! Salem Main Streets is excited to be working with Salem Pet Photo, the New England Dog Biscuit Company, Creative Salem, It's Reigning Cats-n-Dogs, and a number of other community partners to introduce the first annual Howl-o-ween Parade, to be held on Sunday, Oct. 11 at 1 pm on Artists' Row.
People in pet costumes? That's not unusual, at least for this city. No, this event will feature pets as participants/stars in a parade and costume contest with prizes! Howl-o-ween will also include a pet photo booth, some games, and an area with information about local rescues and pet-focused downtown businesses.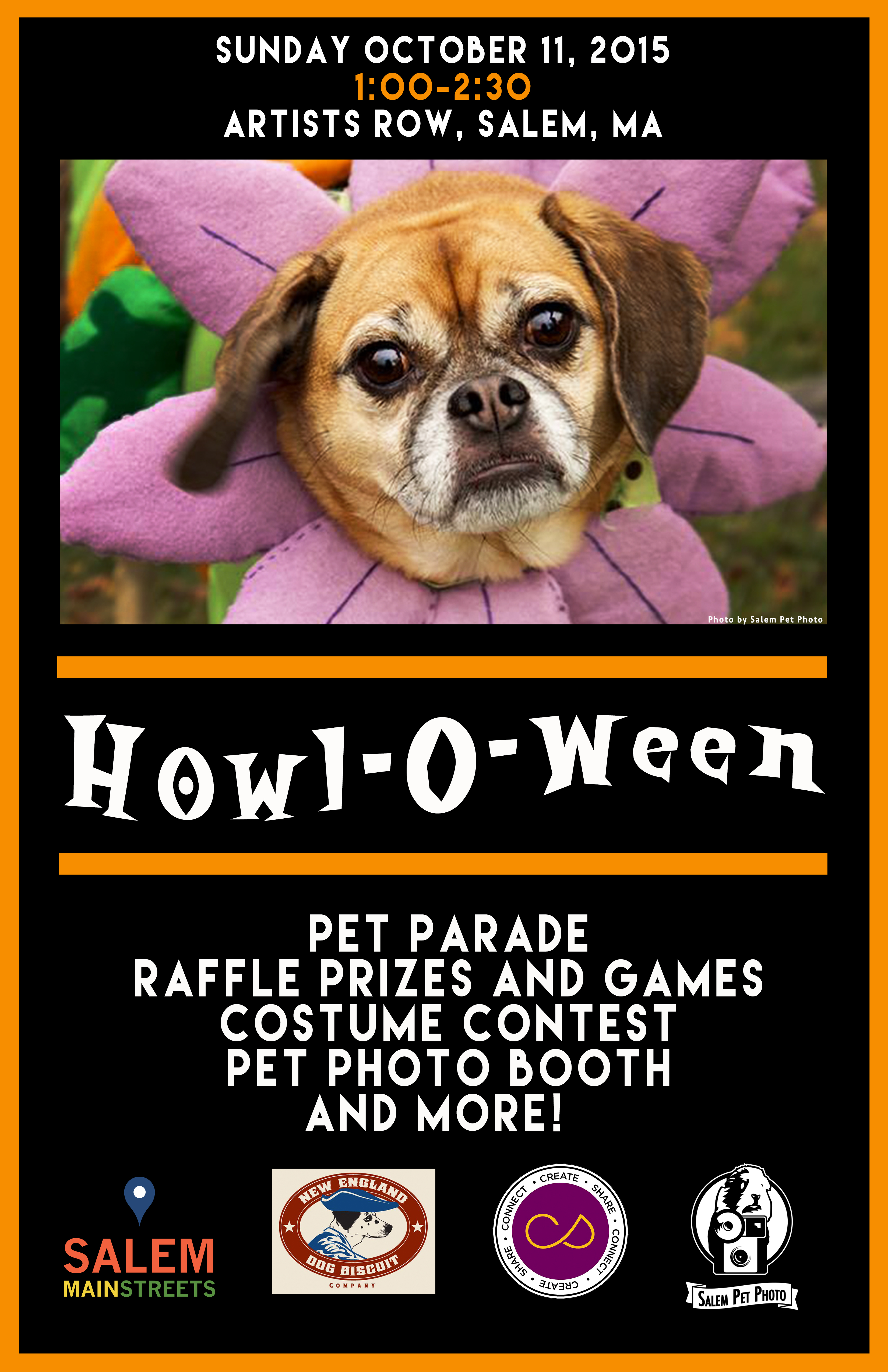 "There have been many wonderful October pet events in the past," says Kylie Sullivan, Executive Director of Salem Main Streets, "but I didn't see anything planned for this year. I really wanted to do something special that would engage our residents, appeal to our visitors, and celebrate our local businesses."
She adds, "Salem is such a pet-friendly community; it seemed like a no-brainer that we needed a pet parade during Haunted Happenings."
Pets of all species are welcome, but should be well-behaved and comfortable at a busy event where there are likely to be many dogs.
"I think the City of Salem's Artists' Row is the perfect venue for Howl-o-ween, and not just because it's a safe space for the attendees," explains Sullivan. "From the pet-inspired works at Diane Hoffman DINO Textiles to the very dog-friendly Lobster Shanty, there are such great partners on the Row to play with for an event like this."
This is a free event, though attendees wishing to participate in the parade will be asked to register at the event to make note of their pet's name for judging and verify that all required vaccinations are up-to-date.
In addition, Salem Main Streets is working with Creative Salem & It's Reigning Cats-n-Dogs on a special social media contest for the "Black Cat of Salem." Details to come!