There are many exciting things happening behind the scenes at Salem Main Streets, and we want to bring them to light. So——
You are invited!
Please join us for Salem Main Streets' Annual Meeting
Tuesday, February 24, 2015
5:30 pm to 7 pm
at the Salem Five Community Room, 210 Essex Street
– Celebrate Salem Main Streets' (SMS) achievements over the past year
– Learn more about SMS mission and goals for the coming year
– Enjoy an evening with SMS supporters, volunteers, committee members, and constituents
Free
Cash bar and light refreshments
Open to all who live, work, and play in downtown Salem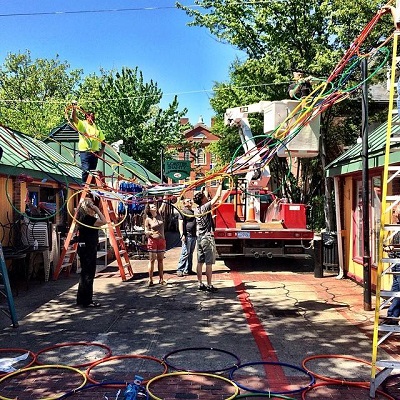 Explains Kylie Sullivan, SMS Manager, "For many nonprofits, 'annual meetings' are primarily a function of the board and those concerned with the administration and governance of the organization. We are throwing the doors wide open for this meeting – inviting all our board and committee members, volunteers, downtown businesses, partners, sponsors, residents, municipal officials and employees, you name it. The message we want to send is that this is YOUR Main Streets and that everyone who cares about the downtown community should feel invested in the operation of Main Streets."
Frankly no one can remember the last time Main Streets held an annual meeting. It's time! We have so many great achievements to celebrate and recognize. Yes, we are talking about the Volunteer Booth, and the Farmers' Market and the Holiday Tree— and so many more. And we are talking about you!
"We have so many great partners involved with Main Streets," continues Kylie, "and we want them to be able to understand how their contribution fits into the larger Main Streets picture. Many of our partners and volunteers may only be involved with just one part of Main Streets (the info booth, the Farmers' Market, Salem's So Sweet) and they don't really know how it connects to the larger mission and goals for SMS."
To that end, while there will be a "speaking" portion of the meeting, it will be noticeably short; greater focus will be devoted on mingling with each other and visiting "stations" manned by committee members around the room to learn more about the different aspects of Main Streets and give feedback.
Consider this is to be more an interactive ongoing conversation, rather than a passive presentation.
We look forward to seeing you and listening to your input, and hopefully your participation sometime during the next year with one (or more) of our projects.
(Photo courtesy of Social Palates is of the Hula Art Project, an example of "board and committee members, volunteers, downtown businesses, partners, sponsors, residents, municipal officials and employees," working together)