Gifts are a token of affection, an expression of friendship, or a transfer of goods in business with no expectation of return. And gifts are also the theme of this year's Salem Arts Association "PEM Inspirational" show, The Gift, Sept. 6-29. The subject this year is Peabody Essex Museum's Fabergé Revealed exhibition.
This is the 7th year that SAA members and non members have been asked to create art derived from a PEM exhibit. Last year, the Salem Arts Association presented Off the Top of Your Head, inspired by the Peabody Essex Museum's Hats: An Anthology of Stephen Jones. Visitors were delighted with over 45 pieces, some of which included real milliner's hats!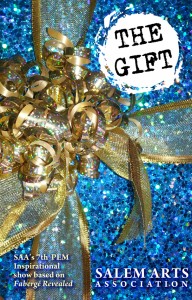 This year the questions posed to artists were:
What is the definition of a gift?
What is the meaning of a gift?
Could artists create a "gift" with interpretations in various media.
No doubt there will be plenty of inspiration from which to draw.
At the Peabody Essex Museum's Fabergé Revealed show, you will see some amazing gifts there that were created for the aristocracy. Fabergé is synonymous with refined craftsmanship, jeweled luxury and the Russian imperial family. This exhibition explores the ideas of luxury, innovation, entrepreneurship and imperial patronage while providing insight into Peter Carl Fabergé's life, business and legacy.
The Peabody Essex Museum will share (as a gift) its 181 Essex Street space to SAA for this exhibition. The curator of Fabergé Revealed, Dean Lahikainen, the Carolyn and Peter Lynch Curator of American Decorative Art for the Peabody Essex Museum, will judge the 7th "PEM Inspirational" show.
Viewings will be Thurs- Sun. from noon-6pm. For more details, visit salemartsassociation.org or contact: 978-745-4850.