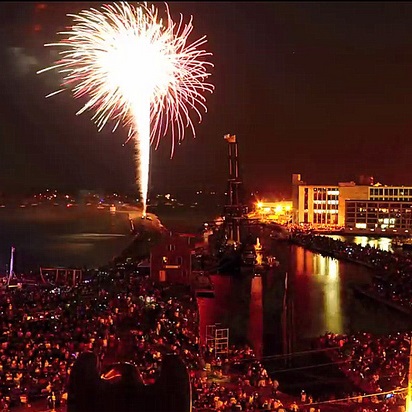 Salem Ma is as patriotic as any other community, with many extras as a backdrop to the history that helped make America the free nation it is today.
"There's no better place to celebrate Independence Day than in historic Salem," points out Mayor Kimberly Driscoll. "Start off bright and early at Salem Common for the annual reading of the Declaration of Independence, spend the day visiting the City's numerous historic sites and attractions, dine at one of dozens of remarkable restaurants, and end your day at historic Derby Wharf for all of the festivities."
If you're not locked into spending Independence Day in Boston, Washington DC or Philadelphia, then why not Salem Ma? We've tried to make it very convenient. The Salem Maritime National Historic Site, from which you can see the fireworks, is just a 10-15 minute walk through downtown Salem from the Salem MBTA station, or any of the parking facilities.
Did you know that the Salem Maritime National Historic Site was designated as the first National Historic Site in the National Park System? It consists of nine acres of waterfront land and houses a dozen historic structures. These include the Custom House, where famed author Nathaniel Hawthorne worked, and Derby Wharf, which was used by America's first millionaire, Salem merchant Elias Hasket Derby.

Did you know that when the United States was young, ships from Salem, MA helped to build the new nation's economy by carrying cargo back and forth from the West to Asia? With historic Salem Harbor, including hundreds of boats moored and the replica of a 1700's sailing vessel, the "Friendship," as a backdrop, Independence Day in Salem is overflowing with historical references.
"This year we are very excited to have a flyover by the 104th Fighter Wing from Barnes Air National Guard Unit," states Mayor Driscoll. The 104th Fighter Wing of the Massachusetts Air National Guard, located in Westfield, MA, proudly claims the honor of being one of the oldest flying units within the Commonwealth.
"As the birthplace of the National Guard, it is especially meaningful for Salem to have a flyover by the 104th," adds Mayor Driscoll. Salem Common was the site of the first muster in 1637 and continues to host the annual National Guard muster to this day.
(Massachusetts Gov. Deval Patrick signed legislation designating the city of Salem as the birthplace of the National Guard during a ceremony held in city hall here, Aug. 19, 2010. Then on Jan. 10, 2013, President Barack Obama signed into law a bill that designated Salem, Mass., as the birthplace of the National Guard.)
Convinced of our historical credentials? Then you are cordially invited to join Mayor Driscoll on Salem Common at 9 am for the reading of the Declaration of Independence. The special program begins with the Star Spangled Banner, sung by members of the YMCA of the North Shore Glee Club. The Declaration of Independence will be read by Dann Anthony Maurno, a Salem resident, actor and author. Musical selections will be performed by Robert Kendall on keyboard. and Salem resident John Howard will lead the audience in singing America the Beautiful. (And, coffee will be provided by the Salem Common Neighborhood Association through the generosity of Starbucks.)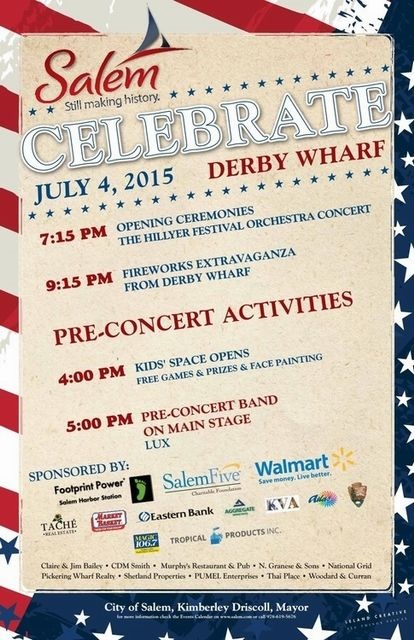 Free children's activities begin at 4 pm with the opening of the Kids' Space, where kids can play games and get their faces painted, all thanks to the generosity of the REMIX Church in Salem and the Salem YMCA. Food tents on site also open at 4 pm with (what else?!!) hot dogs, French fries, fried dough, kettle corn, and other fair favorites.
Live entertainment on the Main Stage begins at 5 pm with LUX, a band capable of seamlessly going between genres from an all-out up-tempo funky number to a traditional jazz band tune. Band members include Todd Clancy on his 8-string guitar, PJ Holaday on drums, Jared Holaday on saxophone, and singer Blair Leavitt.
Opening Ceremonies begin at 7:15 pm when Mayor Driscoll and other local dignitaries will lead a parade down the wharf accompanied by the Salem Veterans Honor Guard and Salem Boy Scout troops. The National Anthem will be sung by the YMCA of the North Shore Glee Club Select, which includes Marena Anderson, Sam Bigus, Emma Lipinski, Chloe Panico, and Jacob Pini, directed by YMCA Music Director Samantha Gambaccini.
Immediately following opening ceremonies, Maestro Dirk Hillyer and his orchestra will be offering another top-notch Pops experience. "We don't want to give the whole program away," states Hillyer, "but you can be assured that we have another year of great music selections from Carousel to The Prayer with special guest soloists Erin Smith, soprano, and Ben DiScipio, tenor. They will blow your socks off! Set your blanket down early to get a good spot!"
At 9:15 pm Salem ends its Independence Day celebration with a fireworks extravaganza, accompanied live by the Hillyer Festival Orchestra playing the 1812 Overture and other patriotic music throughout the entire fireworks display.
And then it's time to go home. But what a time we hope you had!
As with every year, we wish to extend a big thank you, in advance, to City employees and volunteers who worked on this project.
Adds Mayor Driscoll "I'd like to express a special thank you to our Skyrocket Sponsors: Footprint Power – Salem Harbor Station, Salem Five, and Walmart, along with our Star Spangled Sponsors: Aggregate Industries, Tache Real Estate, Market Basket, Eastern Bank, and KV Associates, and our new sponsor this year, Tropical Products Inc. Salem is fortunate to have such a generous business community that continues to support this celebration."
(Cover photo is a moment in time from video scenes photographed and produced by the National Park Service as part of the July 4th, 2013 "Celebrate the 4th" event held by the City of Salem)