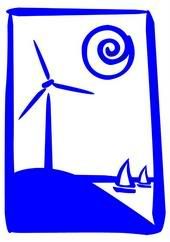 2nd Annual Living Green & Renewable Energy Fair
Saturday, June 13 from 10 am – 3 pm
The Salem Chamber of Commerce, in conjunction with Salem Main Streets and the Salem Renewable Energy Task Force, invite businesses and organizations that promote green and renewable products to participate in the 2nd Annual Living Green & Renewable Energy Fair.
Our Goal: Promote products, services and information that encourage healthier, more sustainable consumption and lifestyles for businesses and families. There is limited space for participants at the fair, the organizers will review applications and payment will be refunded if applicant is not selected.
Schedule of Events:
Vendor Booths & Exhibits in Old Town Hall from 10 am – 3 pm
Green Kids Zone in Old Town Hall from 10 am – 3 pm
Screening of "Addicted to Plastic" in CinemaSalem at 10 am
"Green Speaker Series" at The Gathering from 11 am – 3 pm
For more information go to www.salem-chamber.org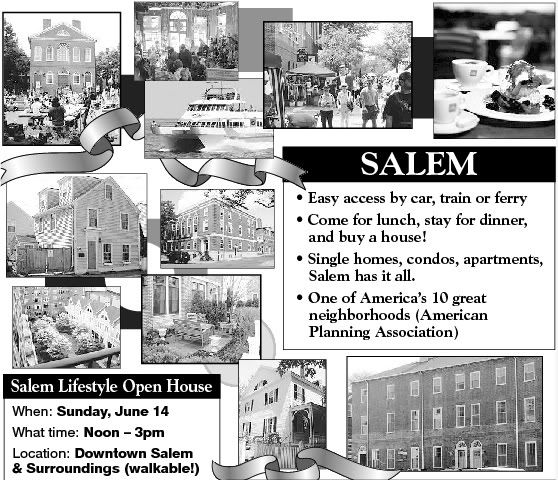 Downtown Salem, Mass – Come Check Out our Hip, Urban Lifestyle!
Salem Lifestyle Open House – Sunday, June 14
Noon – 3pm
Over 20 realtors are participating in Salem's first Lifestyle Open House this Sunday, June 14, showing over 30 properties in and around a walkable downtown. A Map of Open House locations can be picked up Sunday, 11.30 – 3pm at the Salem Chamber of Commerce, 265 Essex Street, Salem, MA (T. 978-744-0004).
Properties shown include historic properties, single family homes, townhouses, condominiums as well as rental apartments in and around the downtown area. List prices start as low as $186,000 for a loft style unit and go up to as high as $950,000 for a colonial revival mansion in the Historic McIntire District.
Organized by the Salem Chamber of Commerce and Salem Main Streets.
For more information or a full listing of properties click here. or visit www.salem-chamber.org.
The Spirit of Salem: Urban, Hip & Walkable
Move to Salem, a City where people can live, work, and play.
Just 16 miles north of Boston and accessible by car, train, and ferry, Salem offers its residents many benefits of urban living, but with easy access to beaches, parks, and open spaces. Historic downtown Salem is conveniently located within walking distance to many restaurants, shops, museums, the MBTA commuter rail, and the Salem Ferry, both of which provide direct service to and from downtown Boston.