Expect Salem (plus Beverly, Marblehead and a score of communities on the North Shore) to be overflowing with shoppers on Saturday. Small Business Saturday, initiated by American Express in 2010, is sandwiched between Black Friday and Cyber Monday. It is a day for people to show support to local merchants who operate businesses in their communities.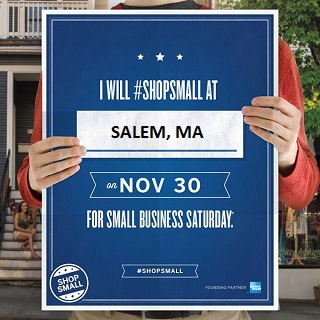 In an effort to encourage Salem residents to "Shop Local First" this holiday season, Mayor Kim Driscoll announced that all parking in Salem would be free Nov. 28 – Dec. 1. This includes all on-street parking meters, City surface lots, and parking garages. Information about parking in Salem is online at http://parkinginsalem.com.
"These are some of the busiest shopping days of the year," said Mayor Driscoll. "Hopefully, by taking this step we can help inspire more Salem residents to come downtown and discover all the great retail shopping opportunities available at our independent businesses and shops."
Karen Gordon Mills, Administrator of the U.S. Small Business Administration has stated:
"Small businesses are the back bone of our communities. And when we shop small, we not only get great products and services, but we support our neighbors and strengthen our local economies."
She points out that, "Over the last two decades, small and new businesses have been responsible for creating two out of every three net new jobs in the U.S., and today over half of all working Americans own or work for a small business."
That certainly sounds like the entrepreneurial spirit that drives the business economy in Salem.
"By shopping small," she concludes "we can help America's small businesses do what they do best: grow their businesses, create good jobs, and ensure that our communities are vibrant."
More than 100 million Americans have participated in the Small Business Saturday promotion. Our merchants in Salem invite you to join the party.