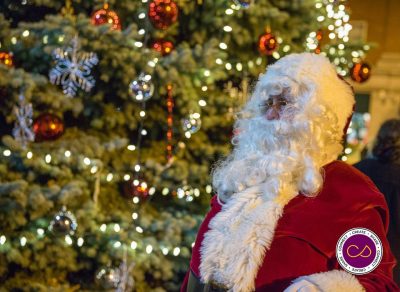 When you think of the Holiday season, what comes to mind is snow, Santa, and a tree. While we can't provide snow, Salem Main Streets and the City of Salem invite you to join our community this Friday, Nov. 24th as we celebrate two of our most beloved annual traditions – Santa's Arrival and the lighting of Salem's Holiday Tree
Santa Claus will arrive at the top of the Hawthorne Hotel (18 Washington Square W) promptly at 6:00 p.m. with some special assistance from the Salem Fire Department, of course. Organizers recommend arriving to the Salem Common by 5:45 p.m. to catch the arrival. Bring the whole family out for carols, festivities, and fun!
Santa's arrival will be followed by a procession down the Essex Street Pedestrian Mall to Lappin Park (next to the Bewitched Statue at the intersection of Essex Street and Washington Street), where we will join Santa and Mayor Kimberley Driscoll for the Holiday Tree Lighting. Participants are encouraged to bring lanterns (store-bought or homemade) to carry in the procession. Safety first, though – electric candles are highly recommended!
"Ever since we combined these two events in 2015, the evening has really taken on a whole new life of its own," says Kylie Sullivan, Executive Director of Salem Main Streets. "It has truly become the community's way of welcoming in the holidays together."
Salem Main Streets is thrilled to welcome the North Shore's own Angie Miller home for the holidays, as she will lead several holiday songs for the Tree Lighting at Lappin Park. A previous finalist on American Idol, Miller moved to Los Angeles in 2014 to pursue her dream of being a musician and now enjoys a successful career under the artist name, Zealyn.
We took a few minutes to catch up with her career. "There were many good things that came from being on American Idol, but at the same time there were a lot of negative things," says Miller. "Because of that, I made the decision to start over, rebrand, and release new music under an artist name. Ever since switching to Zealyn, so many more doors have opened, and some really great opportunities have come about – ones that I never would have had a chance to experience before."
On joining the Tree Lighting this year, Miller says, "I love any opportunity to come back to the North Shore and spend time with my family. I am really looking forward to celebrating the holiday season with everyone in Salem!" (You can stay up to date with Angie's music career by following ZEALYN on social media and listen to her debut EP, Limbic System, on any streaming platform.
Salem Main Streets would also like to thank the City of Salem, the Hawthorne Hotel, Gigi Gill, Remix Church, and the many other community partners who make these special events possible.
This year's tree was graciously donated by Mr. and Mrs. Arthur Francis of Salem in memory of their late son Joseph R. Ingemi III, who always loved the beautiful blue spruce that grew right next to their house. The tree was secured and decorated by the City of Salem Tree Department, with assistance from Mayer Tree Service and Spencer Contracting with transportation and installation. Lights and decorations for the Holiday Tree were made possible by individual contributions and donations from a number of local businesses, including significant donations from Salem's October visitors via Gigi Gill. The tree topper was created by Salem artist Scott Froeschl.
For more information about any of these events, contact Kylie Sullivan, Salem Main Streets Executive Director, at (978)744-0004 or kylie@salemmainstreets.org, or visit http://salemmainstreets.org/festivals/holiday-happenings/santa-arrives-in-salem/ and follow Salem Main Streets on Facebook and Twitter.