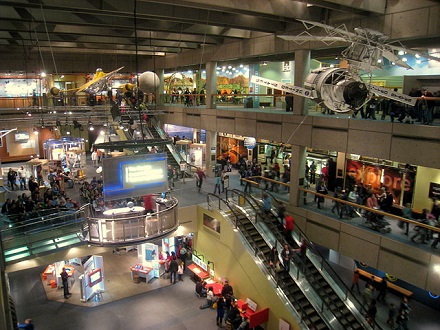 Far be it from Salem Main Streets to advise anyone NOT to visit a Salem attraction— but this one time our advice to residents is go to Boston! The Museum of Science welcomes Salem residents FREE of charge for the entire month of September. And if your visit is on either of two specific days, the train ride to Boston will also be without charge.
September Salem Days provides residents the opportunity to walk through the Boston Museum of Science. And there is a great deal to see: 700 interactive exhibits, live presentations, indoor lightning show and hands-on demonstrations.
This program is supported by the City of Salem and Mayor Kimberley Driscoll, and funded by the Norman H. Read Trust (thank you very much!).
The program includes free Exhibit Halls, Planetarium, and Omni Theater passes for all Salem families, individuals, and children. Passes have already been mailed to each Salem household; admission is for one visit and up to four individuals per pass.
If you did not receive the passes or need additional ones, you can go to distribution centers located at Salem City Hall, Salem Public Library, and the Salem Parks and Recreation Department. Passes will also be distributed in classrooms at the Salem charter and public schools.
Exhibit Hall passes must be presented at the Museum entrance with a valid Massachusetts driver's license or identification card indicating you are a Salem resident.
But Charles Hayden Planetarium and Mugar Omni Theater passes must be exchanged for a timed ticket with valid identification. Salem residents must obtain these passes in the mail or from a distribution center before going to the Museum.
Train rides are all month, but the special ones are on 9/6 and 9/27
The free ride offer is only valid for the 10:38 am North Station bound trains on 9/6 and 9/27. (Suggest you get there early to get the special ticket and don't forget proof of residency.)
The 9/27 ride will be led by Mayor Kimberley Driscoll and family,
Museum of Science staff and volunteers will accompany passengers on both train rides to provide interpretive and hands-on science activities during the rides.
Museum hours in September are Saturday through Thursday, 9 am – 5 pm and Friday, 9 am– 9 pm. Closed Sept. 2, but open on Labor Day, Sept. 1, from 9 am –7 pm. For more info go to http://www.mos.org or call 617-723-2500.