Spotlights are about to be switched on. While it may not be the Greatest Show on Earth, Salem's "Haunted Happenings" October month-long festival will give most other Halloween festivals a run for their money. But before we turn the page to all that is dark and gloomy and fun, September has one more week.
And what a week it has been and will still be.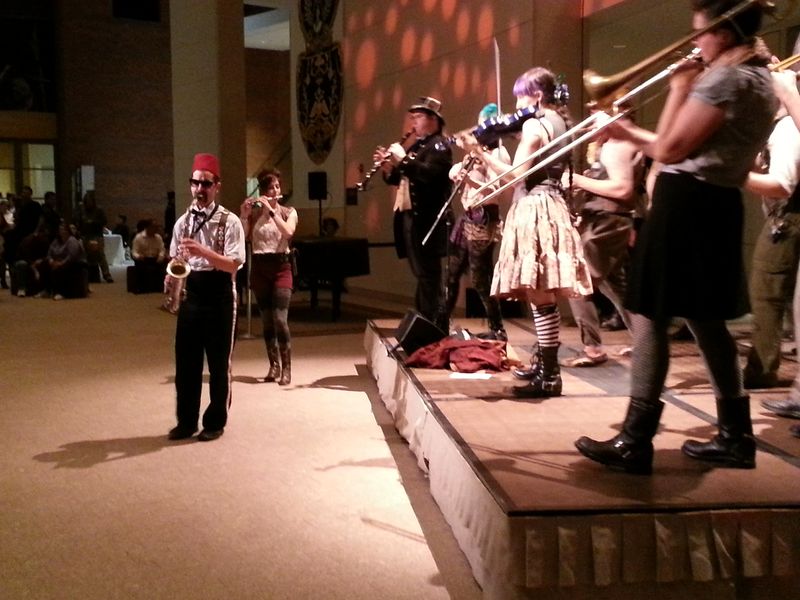 Another great Farmers Market took place on Thursday, followed by a lively PEM/PM after-hours gathering of the Steampunk followers (as evidenced by the lively Emperor Norton's Stationary Marching Band pictured here). Feed the stomach and the mind.
Speaking of feeding oneself, Billy Costa of NECN's "TV Diner" will serve (could not resist) as the emcee of the 4th Annual Mystery Dine Around Salem Waterfront Hotel, Friday from 5:30-11pm. The menu? "Be transported to one of 15 designated restaurants for a fabulous dinner; then following dinner, guests return to the hotel to enjoy the Decadent Dessert Buffet, dancing, live DJ, and the opportunity to bid on an assortment of auction items." There may be tickets still available, call 978.740.8788. Proceeds to benefit The Lifebridge Campus.
Then looking ahead to Saturday, well you can't beat the drums loud enough to support the special fundraiser for the Boys/Girls Club of Salem music program taking place at Wynott's Wands, 127 Essex St.
Salem musician Aaron Katz from The Dejas plans to drum 30 hours straight in an effort to set a new World-Record for Drumming in a Retail Store. And spurring him on will hopefully be you and other community members making donations.
Children, tourists, artists and residents are invited to get involved and bring their own instruments to participate and show solidarity for the music program's initiative— as well as give Aaron some musical changes of pace for his drumming.
Survival of another kind manifests itself later in the day, as The Running Dead- Zombie 5K run is unleashed. Runners will try to stay the course while besieged by "zombies" who have the lone goal of eliminating you. The choice is yours. Proceeds will benefit the NSMC Cancer Center. Info and registration at www.runningdeadz5k.com

And then the weekend ends with a full Sunday.
Cruise the historic waters of Salem Sound aboard a full-scale replica of the 1812 privateer schooner FAME! From 11am to 12:45pm passengers will learn about the fishermen, pirates, privateers, traders and men of war who shaped our North Shore. Limited Availability! No reservations. Booth opens at 10:30AM. First come, first served. 80 Pickering Wharf. More info available at www.trailsandsails.org.
Enjoy Spiritual Middens: The Archaeology of Folklore – an exhibit and artifacts on display at the Witch House, 310 1/2 Essex St. You will find featured deliberately concealed items designed to protect a home's vulnerable places, the threshold and the hearth. Entrance to the exhibit is free to Trails & Sails event attendees from 1-3pm only. For more info go to www.trailsandsails.org.
Learn about Salem and the Abolitionist Movement. A walking tour will begin at Old Town Hall in Derby Square; examine the history and impact of local and national abolitionists in Salem. This 90 minute tour will move around downtown Salem on city sidewalks. For more info go to www.trailsandsails.org. Runs from 1-3 pm.
Share an experience as you observe The 3rd Annual Gimme Shelter Birdhouse Auction, 1-3 pm at Artist's Row, 24 New Derby St. Featured birdhouses were designed, built, and donated by local folks of all ages and abilities. Proceeds to benefit the Northeast Animal Shelter. Hosted by Salem Collective of Artists and Musicians, Serendipitish, and Social Palates. For more info go to salemcollective@gmail.com. or www.facebook.com/salemcollective/events
Drive over to Winter Island Pavilion for the 4 Paws Fundraiser Charity Cookout for Service Dogs, from 1-5 pm. Food, games, a bounce house, and music are all included for the price of admission! Plus raffle prizes. All proceeds will go to the Charity 4PawsforAbility towards Gabriel Lacerda's goal to help him receive an Autism Service Dog! Fun for the whole family and a great cause! For more details go to www.paws4gabe.com
Taste the Gables. Join local chefs for an elegant evening of fun, food, and camaraderie under the tent on The Gables' oceanfront lawn. Proceeds will benefit the preservation of eight historic houses. Caterers and chefs, vintners and brewers will offer their specialties and compete for your vote. It runs from 4-8 pm at 115 Derby St. For more info go to www.7gables.org.
Many of these events are benefits. Salem may be famous for Halloween as a tourist destination, but we are that and so much more.