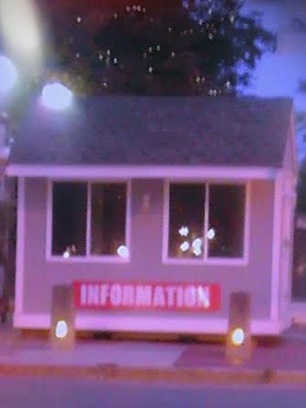 Hauntingly standing in and out of the shadows, the Salem Main Streets Haunted Happenings Information Booth waits patiently on the corner of Essex and Washington Streets. It waits for you.
For resident and tourist alike, young and old, American and foreign traveler, it does not discriminate in its need to feed— you information. Now that it has been dropped into place, the booth sits day and night awaiting the launch of our season of service. Volunteers will start staffing Thursday from 4:30 – 6:30 pm to coincide with the Haunted Happenings kick-off Grand Parade.
Stephanie Hagyard, a volunteer since 2008, and coordinator of this year's SMS info team says "Our shift schedule will be 2 – 6 pm on Fridays (noon – 8 pm on Halloween), 10 am – 6 pm on Saturdays and noon – 5 pm on Sundays (might vary to 11 am on Sundays depending on staffing). The only holiday is Columbus day which will be a 10 am- 4 pm effort."
She adds, "Most shifts are filled but there are a few dates/shifts that I would like to get a third/fourth person on- and November 1st is a new addition this year that needs people." If you would like to volunteer, contact Stephanie at shagyard@yahoo.com.

You would become part of a community of 'community volunteers' who have provided direction and support to nearly 140,000 visitors since 2008. And this year with Halloween on a Friday, we can expect record numbers to cross Washington Street at Essex Street (which is the location of our booth).
Asked for advance advice to offer 10/31 visitors, Stephanie offered "Park once, wear comfy shoes, walk around, dress in layers, pay attention to your surroundings; if you are at an establishment getting lunch/dinner/coffee use the bathroom even if you don't think you need to because who knows how long lines will be at other restrooms that are public."
That's the kind of straightforward, we believe useful info, you need from the booth volunteers, along with where the "witch this" and "witch that" are located.
The Info Booth beckons you….