Switching personalities holds evil sway over the current production for Salem Theatre; an adaptation of H.P. Lovecraft's "The Thing at the Doorstep" will be running now through Oct. 4th, thus ushering in the Halloween season for Salem.
Daniel Upton has shot his best friend, Edward Pickman Derby, six times through the head, yet claims that he is not a murderer. In this tale of dread adapted from the story by H.P. Lovecraft, the eldritch tendrils of cosmic horror creep closer to our civilized world than ever imagined. Is Edward Derby's wife more than she appears? What secrets is he keeping from his best friend?
Mystery. Suspense. Compelling relationships explored. Something not of this world.
The short story, written by Lovecraft in August 1933 and first published in January 1937 has been re-designed for the stage by Isaiah Plovnik who is also directing.
But few people realize at first the numerous connections to Salem that filter through all of Lovecraft's work, and especially this one.
According to the site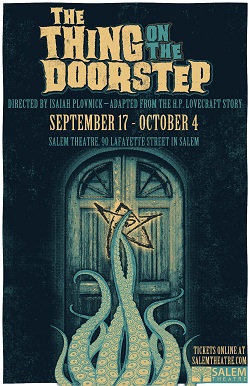 Gothic Horror Stories, "Lovecraft first visited Salem in April, 1923 and came back often. It's believed that he modeled the fictional town of Arkham on Salem, and was no doubt struck by the staid, colonial architecture, as well as the particularly colorful family names."
Consider the names of characters in "The Thing at the Doorstep"… Upton, Pickman and Derby are old Salem names.
Also, Richard Upton Pickman is the title character of "Pickman's Model."
Plus, it is the Nathaniel Derby Pickman Foundation which underwrites the Antarctic expedition in "At the Mountains of Madness."
Let's also point out the Crowninshield House in "The Thing on the Doorstep" was modeled on the real Crowninshield-Bentley House in Salem, MA.
The production will crawl across the stage at 90 Lafayette Street.
September 17 – October 4
Thursdays*, Fridays, Saturdays at 7:30pm
Sundays at 3pm
*No Performance Thursday, September 24
For ticket info, call 978-790-8546 or salemtheatre.com